Jazz-gone-country duo Tattletale Saints are heading out on tour with their almost-debut album. They talk to Lydia Jenkin about their short genre-hopping history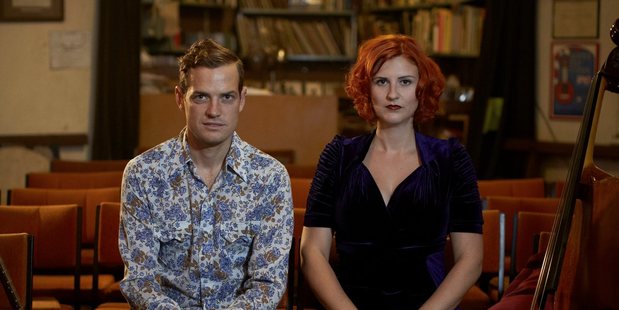 It's a little misleading to call How Red is the Blood the debut album of alt-country-folk duo Cy Winstanley and Vanessa McGowan. For although this is the first release under their new name Tattletale Saints, they've been performing together on and off since they were 16, and previously put out an album as Her Make Believe Band in 2009 when they were based in Britain.
Both began on the piano at a young age, progressing through a variety of instruments, until they met in the Queen City Big Band in their mid-teens - McGowan on double bass, Winstanley on guitar - and discovered a shared passion for jazz.
In intervening years, Winstanley headed to London to spend seven years busking, performing and touring the country, having discovered folk, country and bluegrass, while McGowan moved to Las Vegas to do her Masters on jazz bass.
But when they were reunited in 2007, it became clear their path ahead lay as a duo - so Winstanley convinced McGowan she could sing, introduced her to some of his folk favourites, and away they went.
"I think there is a big jazz influence in there still," McGowan says of the change. "I don't think we can get away from the fact we both love and listen to a lot of jazz. I didn't even really know bluegrass existed until Cy introduced me to it at about 25," she laughs.
"But she took to it very easily," Winstanley adds. "And I just love country, and bluegrass, and old-timey type stuff, and acoustic instruments played in a country context with open chords. They sound perfect with the voice.
"It's so unpretentious, and the songs tell a distinct story from A to B. I prefer to avoid, impersonal, non-descript metaphors that don't really go anywhere."
The pair complement each other nicely - McGowan's rapid-fire enthusiastic speech contrasted with Winstanley's more laid-back, contemplative manner - and they seem very comfortable together, so it's perhaps no surprise that they were a couple for some time. But slightly more surprising is that now they're not they've remained a duo, and steadfast friends; they recently celebrated the one-year anniversary of their break-up.
"It has been a real challenge. But I guess in a funny way, if you see the band as our baby, though breaking up is difficult and maybe you want to go separate ways, you've got this baby that ties you together, and you don't want to abandon it, so you push through that stuff, and don't give up the thing you love. We still love playing together," Winstanley explains.
Maybe it's not a particularly relevant point then, except that the break-up also marks something of a difference in tone between the songs of HMBB and Tattletale Saints. Though there's a shared sense of romanticism, How Red is the Blood definitely takes on some darker themes, sometimes potently contrasted with their sweet musical disposition.
"HMBB had a lot of love songs. But the songs on this album are a bit darker. Kathleen is really about someone who tries to rape a 17-year-old, but can't, so kills her. It's a murder ballad.
"And then Emily is about a guy who's with a horrible woman, and Molly is about a guy who's in a very conflicted relationship with his brother's wife. So I feel like they're not love songs in the traditional sense, even though they deal with affairs of the heart," says Winstanley.
That's not to say there's anything graphic or grotesque anywhere on the album - Winstanley has a clever way with lyrical phrasing, hinting at the darkness with subtlety, which he attributes to a love of books.
"I didn't really read at all in my life until about seven years ago, but since then I've read voraciously. I think it's widened my scope. There's only so much you can say in a traditional love song. It's nice to dig a bit deeper, think a bit broader."
To get the true folky bluegrass sound they were after, the pair wanted to work with a producer experienced in the genre - so they pitched themselves to Grammy-winning producer, songwriter and multi-instrumentalist Tim O'Brien, via an emailed video show reel.
"We wanted Tim because we wanted a producer who was very song-based, and interested in keeping the song at the centre, and also someone who could deal really well with acoustic instruments," McGowan explains.
"We wanted the album to be a beautiful representation of what we actually sound like when we play together, rather than a layered-up, produced version."
O'Brien was keen to be involved, and suggested they come to his studio in Nashville to record - an opportunity the pair jumped at. They just had to figure out how to pay for it.
And rather than rely on getting funding from any government bodies, they decided to get involved in New Zealand crowd-funding site PledgeMe - essentially asking interested parties to pay for the new album before it had been recorded, offering a bunch of incentives, and relying on supportive fans to raise a final total of $22,000.
It was an impressive effort - admittedly a lot of work - but one that allowed them to realise their Nashville dream, and also proved they have fans up and down the country who are keen to hear their particular, lovely, modern country-folk sound.
"We wouldn't have been able to do it otherwise," McGowan explains. "I think for the kind of album that it is, it worked out perfectly. And we do have a great pool of fans who are very generous, and into the music, and they're quite passionate about it. People were amazing."
Who: Tattletale Saints
What: New album How Red is the Blood
Where and when: They embark on a 22-date national tour, starting at The Bunker in Devonport on Tuesday. The rest of the North Island dates are as follows: Artworks Theatre, Waiheke, Apr 12; Old Library, Whangarei, Apr 13; Whangateau Hall, Apr 14; Acoustic Club, Tauranga, Apr 16; Kauaeranga Hall, Thames, Apr 17; venue TBC, Wanganui, Apr 19; Bent Horseshoe Cafe, Tokomaru, Apr 20; Wellington Bluegrass Society, Petone, Apr 21; The Cabana, Napier, May 8; East End Cafe, Wairoa, May 9; Dome Cinema, Gisborne, May 10; Vinnies, Raglan, May 11; Kings Arms, Auckland, May 12
- TimeOut