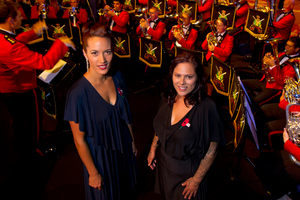 Anzac Day has a new song - a three-minute piece written from the point of view of families who have lost someone.
Ria Hall (left) and Anika Moa are combining with the full NZ Army Band to record a concert that will be played on Maori Television on April 25.
The concert will include a range of music from slow WWI numbers, classic Maori songs, a dramatic fusion of bombing sirens and brass for an opener and a medley of rock songs from the Vietnam era led by Moa.
The new ballad uses military drums and part of the Last Post.