As he heads back to NZ, legendary singer-songwriter Paul Simon talks about his musical past and present to Lydia Jenkin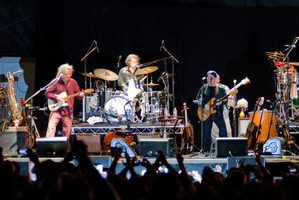 And here comes rhymin' Simon. It's just gone 8.30pm on the last night of the West Coast Rhythm and Blues festival in Fremantle. And under these Australian skies, Simon and band have just ambled into Gumboots, a sunny slice of township jive from pivotal album Graceland.
It's now more than a quarter century since the release of that album - the biggest of the singer-songwriter's solo career - but in this balmy outdoor setting it's hard not to see and hear it as a flashback of sorts.
It may not have quite the same crackle of political revolution and cultural upheaval as his famous 1987 Zimbabwe concert, but as Simon plays there are echoes of how that show might've felt, and even in this mellower, more mature incarnation, he has the audience entranced.
Under the still night sky, his voice is young and clear, his guitar playing fluid, and his movements gently grooving to the irresistible bounce of his many, many hits. Upon hearing the unmistakable squeeze of the accordion melody that ushers in Boy In the Bubble, or the batucada drum riff which opens The Obvious Child, it's hard to fight the urge to dance.
Tonight, it can't really be overstated how wonderful his songs are. Decades on, the intricate African infusions of Graceland, the South American zing to The Rhythm of the Saints, the Jamaican and gospel inflections on There Goes Rhymin' Simon, still make for a thrilling live experience.
And his eight-piece band (two of whom have been with him since Graceland) sure know how to make that melting pot of sounds resonate and delight. On a stage laden with a huge array of percussion instruments, multiple drum kits, horns, synths, and guitars, they seem gleeful in their musical freedom. But they still revel in those iconic phrases which should never be changed - like the joyful guitar riff in Diamonds On the Soles of Her Shoes, or the bass solo in You Can Call Me Al.
Last down this way in 2009 on a reunion tour with Art Garfunkel, this time there are fewer beloved 1960s Simon and Garfunkel ballads on the setlist, but when he pulls out The Sound of Silence in the encore, it feels as prophetic and goosebump-inducing as ever.
A few hours earlier, TimeOut sits down with Simon in a sunny, plush Perth hotel suite and - despite having arrived only 12 hours before - he's amiable, and quick to say he's looking forward to heading back to New Zealand on his first visit since performing with Garfunkel in 2009. "I like New Zealand. Everybody likes New Zealand. In fact, I bet if you asked people, 'where would you like to live?' New Zealand would be close to the top of the list."
For someone who features so large in the history of popular songwriting, Simon is a surprisingly small man. But at 71 he's a compact bundle of energy, his hands expressive and nimble as he talks. And as he ponders his own history, or joins the dots between Africa and Elvis, from his folky beginnings with Simon and Garfunkel to the funkier explorations of his solo career, it's hard to ignore the magnitude of his presence.
Yet for a man who's sold millions, performed to millions, and had a wide reaching impact in his six decades in the business, he's humble, unassuming, and remarkably, seems as excited about music now, as when he wrote The Sound of Silence, especially musing on ever-exciting cross-cultural musical possibilities.
"Sounds from across all sorts of cultures relate to each other from different fields. So you can have a pedal steel guitar, but maybe the overtone sounds like a violin, so it could turn into a violin, and if it turns into a violin, well it could turn into a string quartet. You can establish that these sounds belong together in some sort of hearing zone that you have, and then you're starting to build a picture."
He's a man steeped in songwriting, and his passion and vast knowledge pour forth as he reflects on albums both old and new.
His latest, So Beautiful or So What, released in 2011, was hailed as something of a comeback. It debuted at No 4 in the US charts, becoming his most commercially successful album since 1990's The Rhythm of the Saints. It may not have sold the many millions that Graceland did, but combining his talents for shimmying rhythmic grooves and poignant ballads, Simon is happy in the knowledge it's some of the best work of his career - and a reflection of his accumulated songwriting experiences.
It was the first time he'd approached an album from a harmonic, melodic angle since before Graceland (which celebrated its 25th anniversary last year with the documentary Under African Skies, looking back at its controversial creation in the apartheid era).
Usually he begins with the drums, and rhythmic textures, but here he made a conscious decision to change that pattern.
"I started off writing ballads, so it was more about harmony. And only because it was sort of time to break the pattern. And they were interesting ballads. I thought they were as good as anything else on the record, and as good as anything that I've written."
Some fans might be surprised to know that lyrics are always the last thing that Simon adds, and are often his greatest challenge.
"The reason the words come last, is that if for example, I'm writing on the guitar, and I make up a guitar piece, I then think, what does this sound like? What genre does this relate to? What kind of conversation would be taking place with this musical context?
"It's the same when I write with a rhythmic premise. And that's why the lyrics always come last, and why the lyrics are hard for me, because you have to get the lyrics to fit a certain amount of syllables, and have the right emphasis.
"It's not like it always has to be some great insight, but it does have to have a certain amount of truth to the music behind it. If it turns out to have some sort of insight or overview, well great, but if it doesn't, it still works because it's truthful to its rhythmic and sonic context."
Of course, it's that precise blend that make songs like The Sound of Silence, Boy In a Bubble, or more recently, The Afterlife, such lyrical masterpieces - even if Simon is too modest to admit such things.
But his reputation as a wordsmith is only one aspect of his popularity - he's just as well loved for his impressive intertwining of musical cultures. The watershed moment was obviously Graceland in 1986, a record that proved a huge pop song could be born out of the rhythms of an African township jive, or the deep harmonies of a Zulu choral group, but it wasn't the first time Simon had looked abroad for opportunities to collaborate.
The Simon and Garfunkel hit El Condor Pasa was directly inspired by French Andean musicians Los Incas, and Simon went to Jamaica to record Mother and Child Reunion with its ska/reggae flavour.
In fact Simon sees the seed of his interest in world music planted even earlier, with his teenage love of rock 'n' roll.
"Rock 'n' roll was a combination of rhythm and blues which was urban black, blues which was rural black, country which was rural white, mostly Appalachian, drawing from Anglo-Celtic roots. So really you're talking about world music there because you're talking about Africa, and you're talking about Europe, and their intermingling."
And that magical kind of intermingling is exactly what happened when he began to work on Graceland.
The story of the title track even provides a blueprint for the way Simon has worked ever since - a back and forth type of musical conversation with musicians from varying backgrounds, and an open-mindedness and joy in finding unusual combinations.
"I took a drum track that was from a different session in South Africa and showed it to [African guitarist] Ray Phiri. He started to play his imitation of American country, which to me sounded very interesting - it was country, but it was African country. And then I said, lets put this little 'da do de da' melody in there. And then he played this minor chord, and I said, 'that's really interesting, where did you get that from?' because South Africans don't play minor chords. And he said, 'I played that chord because you always play that in your music - I know your music and you use that chord sequence'.
"So he's taking a vague recollection of country music, knowledge of a chord pattern that I like, putting it on top of an African drum groove, and then he plays the chorus which sounds just like an African riff, and you have a real melting pot."
Add to that the lyrics about the home of Elvis, and the blend of cultural ideas becomes even wider. "For months I tried not to write a song about Graceland, because I thought, this can't be about Elvis Presley. But then I couldn't stop singing it, so I thought, 'Well, maybe I should just go to Graceland, and see if I'm supposed to know something'.
"So I was driving through the Mississippi Delta to get there, and I literally see the first line of the song, you know. I get to Graceland, and I start to tell that story, and I realise, hey, it's all mixed up, the division doesn't exist, and you can go wherever you want with it."
The songs from Graceland and his various other solo albums remain firm live favourites for audiences around the world, and Simon is good enough to keep playing them, often including only a small scattering of new songs, as he does in Perth. "I know people like to dance when they come to the live shows. And those songs change in meaning over time too. The Sound of Silence made a lot of sense when it came out, and then they asked me sing on the tenth anniversary of 9/11, and I sang it, and it made sense. It was a different sense, but somehow it was still emotionally resonant.
"So the song is transformed by the listener. Each time a listener hears it, they relate it to their own experience. How that works is a mystery, but the listener is always the final writer of the song really, from the first time you put it out, they give it their own meaning."
Who: Paul Simon
Where and when: Performing with his eight-piece band at Vector Arena in Auckland on Monday April 8, with special guest Rufus Wainwright
- TimeOut