Chilean Oscar-nominated film No shows how an adman took on the Pinochet regime and won. Helen Barlow reports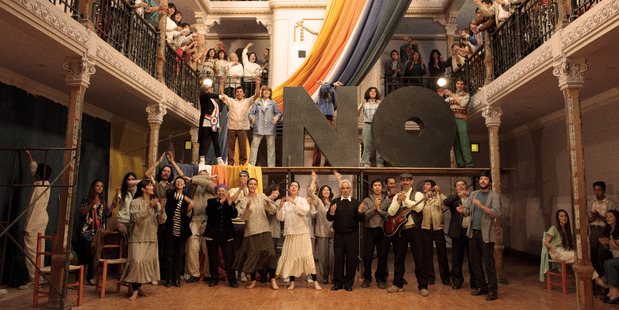 Mexican actor Gael Garcia Bernal and Chilean director Pablo Larrain are both upper-middle-class guys, though they hail from either ends of the political spectrum.
While Bernal is the son of free-thinking actors who helped make him an adventurous kind of arthouse film star, Larrain is the son of conservative politicians, who voted Yes in the 1988 plebiscite which would have installed Chilean dictator General Augusto Pinochet for another eight years as the nation's leader.
The No vote, however, prevailed and Larrain's new movie, No, playfully recalls how Rene Saavedra, an advertising executive whose usual clients were Coca-Cola, orchestrated a clever pro-No campaign.
Bernal, who plays Saavedra, came early to the Chile-US-Mexico production and his presence greatly helped with the financing. The star of The Motorcycle Diaries and Bad Education wanted to work with Larrain as he had seen the first film in the director's so-called Pinochet trilogy, 2008's Tony Manero, about a man obsessed with John Travolta's character in Saturday Night Fever and who runs his household like a dictatorship.
Larrain's second film in the trilogy was 2010's Post Mortem, set during the 1973 military coup, and now comes No, which was Oscar-nominated for best foreign film.
"I love Pablo's work and getting to know him was the key to my doing this movie," Bernal recalls. "I was doing a film in Bolivia and he arrived and we spent an afternoon together and he told me what the film was about and we became instant friends as we share the same kind of film language. He is a good director, a solid kind of craftsman and he also has this great insight and this mischievousness of what he wanted to achieve in this movie.
"He was inviting me to be a collaborator in his investigation because the film is basically an interpretation of what happened at that time, even if it ends up being a deconstruction of democracy.
"It's a very intellectual movie yet at the same time it's very moving. It shows us the ambiguities and the contradictions that democracy brings in an entertaining manner."
Growing up in Mexico, did Bernal hear about this story of an adman virtually overthrowing the Chilean dictator? "I grew up with a lot of political exiles from all over Latin America, so I have friends who are sons or daughters of dissidents," he replies. "I knew about it on that level but nothing like when I went to make the movie and got to know the real people."
Larrain's parents were right-wing politicians. His father, Hernan Larrain, is still a senator and his mother, Magdalena Matte, is a former government minister.
"When my parents voted Yes I remember holding the Yes flag on the final day, which is in the movie," Larrain recalls. "I was one of those millions of people supporting Yes on the streets. Then I grew up and realised everything."
Larrain was 12 at the time of the plebiscite. "It's not something I remember clearly. I just remember the atmosphere; it was awful. I remember watching the campaigns on TV - it was a thrill like the World Cup. Pinochet and the regime never thought it was going to be important. They thought it was just a TV thing, but it did change everything.
"That's why we became interested in the story, because it shows how they changed the destiny of a country through very simple ideas on TV.
"The guy who did that was not a genius who made a revolution; he was not Che Guevara. He was an advertising guy who believed more in Coca-Cola than in freedom or politics. We were fascinated that Pinochet was ultimately defeated by the capitalist economics and the social system he imposed. In a sense he dug his own grave."
Larrain's penchant for Mad Men-style attention to period detail led him to shoot with U-matic videotape to match the original footage. Although it was a struggle to find the cameras, this was essential as he was determined to show how Pinochet really was.
"Pinochet was very stupid," he says. "He wasn't a smart person like Margaret Thatcher, and I don't like her either, but I wouldn't say she was stupid. Pinochet was just lucky to get where he got and he was violent enough to control everything.
"One of the guys under him was very smart, but Pinochet himself could barely talk. I just had to show the real guy because it's all just there. Some day somebody will make a movie about him, and it will be a comedy like (Sacha Baron Cohen's) The Dictator."

Lowdown
Who: Actor Gael Garcia Bernal and director Pablo Larrain
What: The film No
When: Previews this weekend. Opens Thursday