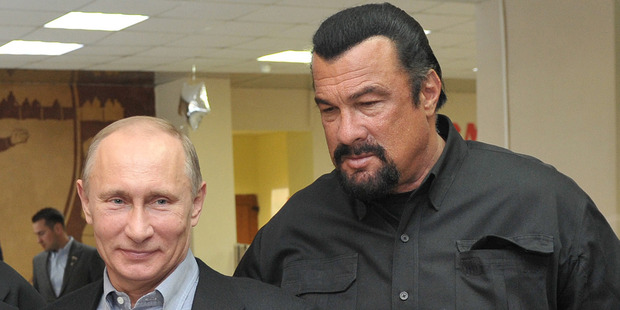 President Vladimir Putin has teamed up with American action movie actor Steven Seagal to promote the Soviet-style regime of rigourous physical training for Russian schoolchildren.
Accompanied by the black-clad star of Under Siege and Above the Law, Putin, himself an avid sportsman, toured a newly-built complex at a prominent sambo martial arts training centre in Moscow.
After attending several training sessions, the Russian strongman said too many Russian children were sickly, noting they should take up sports to be able to defend themselves - and the country.
"We should not have any children who, as they say, sit on the bench during physical education classes. Everyone should practice sports, everyone without exception," Putin said at the Sambo-70 sports complex.
Sambo, a mixture of judo and wrestling, was the official in-house martial art of the KGB security services which Putin practised before switching to judo.
Saying that two-thirds of Russian teenagers suffered from chronic illnesses by the age of 14, Putin called on the government to reintroduce the Soviet-era national fitness program that used to be known by its abbreviation GTO, or Ready for Labour and Defence.health
"Children should become strong, they should be healthy, love sports and have an opportunity to practice them, should know how to defend themselves, their loved ones, their family," Putin said in remarks released by the Kremlin.
"Ultimately, they should be able to defend their motherland."
Putin's spokesman Dmitry Peskov told Russian reporters that the Russian president and Seagal have been friends "for a long time" and regularly meet.
- AFP