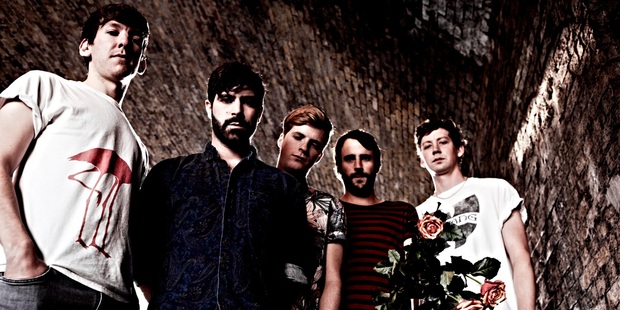 Galloping into town on the back of the release of their third album Holy Fire, Oxford indie rockers Foals have announced that they will be returning to Auckland to play a show at the Town Hall on Saturday, October 5. Last appearing here at the Laneway Festival in January 2011, revelling in the attention they'd gained from Mercury Prize-nominated second album Total Life Forever, they impressed the crowd with their pounding, sweat-drenched, fierce live set.
Since then the five-piece have been back in the studio with producers Flood (P.J. Harvey, U2) and Alan Moulder (My Bloody Valentine, Yeah Yeah Yeahs), creating the stadium-sized songs for Holy Fire, including much-played Inhaler.
Tickets are on sale Monday, March 18 through the-edge.co.nz
Local chart-topper Tiki Taane's recently released single, a collaboration with Dick Johnson and Boh Runga, may be firmly in the electronic realm, but this week he's announced he'll be heading out on a national acoustic tour with fellow singer-songwriter Jayson Norris and special guest, rising British soul artist Jesse Harlen.
Audiences will be treated to stripped-back versions of Tiki's past hits (like sing-along ballad Always On My Mind), along with material from his upcoming acoustic album, set for release this year. They'll be starting at Imbibe Bar in Tauranga on April 11, before heading to Hamilton and Kaitaia, reaching Auckland on April 18 for a set at Juice Bar, and then heading south to play at Bodega in Wellington on April 19, and in Christchurch at the Dux Live on April 20.
Hyperactive pop punk four-piece Fall Out Boy also announced a New Zealand show this week, after selling out their Australian tour. The group, who were responsible for hits such as Dance, Dance, This Ain't a Scene, It's An Arms Race, and helped spawn a high school obsession with dark hair and eyeliner, have been on hiatus since 2009, but have a new album, titled Save Rock and Roll out in April. In order to celebrate, and introduce fans to the new songs, they'll be playing at the Powerstation on Friday, March 29.
And two more acts have also announced local shows: crazy American garage-rocker King Tuff will be performing at the Kings Arms in Auckland on April 29 and at Bodega in Wellington on April 30; and one of the defining figures of the urban music revolution, the legendary DJ Afrika Bambaataa (or Bam, as he's known to his friends), will be bringing his futuristic, socially and politically conscious melting pot of a bloc party to The Studio on May 9.
- TimeOut