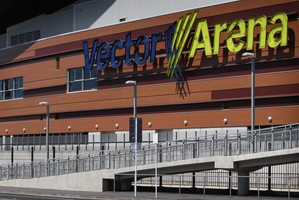 New Zealand's flagship indoor concert mecca is getting a mini version of itself.
Bosses at the 12,000-capacity Vector Arena in Auckland are converting a two-storey bistro next door into an intimate gig venue. It will hold up to 300 music fans and host a mix of local and international acts.
Stage and lighting equipment is being installed at the Tuning Fork bistro. Concerts are expected to start in May.
"We want to find the kind of bands that can make an impact at the small venue and in time make the leap to playing the main arena," Vector boss Stuart Clumpas told the Herald on Sunday.
"Until we gauge the reaction to the noise from our neighbours, we will stage mellower gigs. There would be no point in putting on the new Metallica and freaking everyone out. We would rather try and find the new Leonard Cohen."
The Tuning Fork will also have a musical feel to the interior, along the lines of the world-famous Hard Rock Cafe chain. "We have items like a signed brick from Roger Waters when he was here with his show The Wall," said Clumpas, "and Taylor Swift's banjo will also be going on the wall."