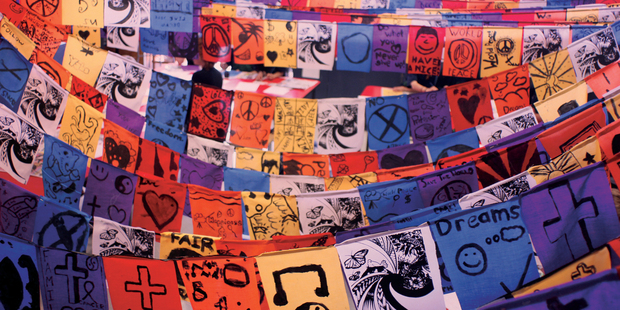 When installation artist Tiffany Singh worked with children in the slums of India, they told her they wanted to be astronauts, or travel the world by hot-air balloon or be prize-winning doctors and teachers. Singh expected New Zealand children would be similarly ambitious, so was surprised to find they want to win Lotto to help their parents with rent or bills, that they want enough food to eat, or for dad or mum to find a job.
She has spent the past year working with primary school children from all ends of the Auckland region on Auckland Arts Festival's Fly Me Up To Where You Are project.
Children from around 30 schools have designed and painted 5000-6000 prayer flags on which they have put their hopes. The flags were created after a preparatory lesson in which the youngsters discussed their dreams. The basis for these sessions was questions designed to get them thinking about "big ideas".
Singh says she was inspired by Tibetan dream flags she saw around the Himalayan region. A prayer flag is a colourful rectangle of cloth used to bless the surrounding countryside and promote peace, strength and wisdom.
Creating the Auckland installation has taken Singh to private decile 10 schools, rural primaries, inner city and low decile west and south schools. While there have been occasional exceptions - the kid who does want to fly to the moon - most have far more down-to-earth wishes.
Was the New Zealand-born artist, of Maori, Indian and Pacific descent, surprised by the results? Yes, she says, plus disconcerted and perturbed. She had figured that in a society as egalitarian as ours, our children would be aiming high.
"The children seem to have taken to heart the very real concerns that their parents and caregivers have and I'm not sure they should be privy to these types of concerns at such a young age.
"It seems they have come to believe you can only achieve your goals if you win Lotto. This type of belief stops them from having their own sense of imagination, of freedom. I fear we are taking away from the idea that anything is possible."
Watching Singh at Mangere's Jean Batten Primary, it is obvious the project is about empowering young New Zealanders to realise they have a voice and choices.
"This project is really about you guys and how you think stuff; if you put it out there into the world, then you can make it come true," Singh tells them.
"Your flag will become part of something large; you are one person, but when you come together, you can make something bigger and make lots of things happen. Be active and create a beautiful world and be positive about that."
She hopes visitors to Aotea Square will read what's on the flags, so they stimulate discussion about what we want for our children. The aim is to effect change.
The Jean Batten pupils talk proudly of wanting their culture respected, their wish for the environment to be better treated and treasured, and their hope for peace. They sing as they work.

Auckland Arts Festival
What: Fly Me Up To Where You Are, with Tiffany Singh
Where and when: Aotea Square, to March 9
What: Te Waharoa, with Tiffany Singh, Robert George, Leanne Clayton
Where and when: Artstation, 1 Ponsonby Rd, Newton, to March 24