Action blockbusters and light-hearted comedies dominate network's movie award nominations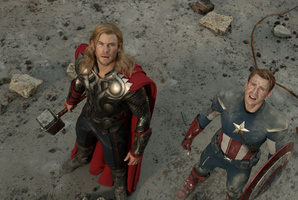 They may have gone largely ignored at the Oscars but blockbusters such as The Avengers and The Dark Knight Rises, and comedies like Ted and Pitch Perfect feature heavily in the nominations for this year's MTV Movie Awards.
Academy Award-winning films such as Django Unchained, Les Miserables, Silver Linings Playbook and Argo do figure among the nominations, but the categories are oriented towards film-fan irreverence rather than movie-making excellence, with prizes handed out for the best kiss, best fight and best shirtless performance.
Django, the Quentin Tarantino film set in the American South during 19th century slavery, and Ted, the Seth MacFarlane comedy starring Mark Wahlberg and his relationship with a talking teddy bear, both scored seven nominations each, including Movie of the Year.
Silver Linings Playbook, which stars Oscar-winner Jennifer Lawrence and Academy Award nominee Bradley Cooper, was also very successful, picking up six nods in a number of categories.
Both Cooper and Lawrence have impressed judges, having been acknowledged for Best Male and Female Performance.
The MTV Movie Awards will take place on April 14 in Los Angeles, hosted by Australian star Rebel Wilson who has herself been nominated, for Breakthrough Performance in Pitch Perfect.
- AAP