Gaining critical recognition death knell for craze that has criss-crossed planet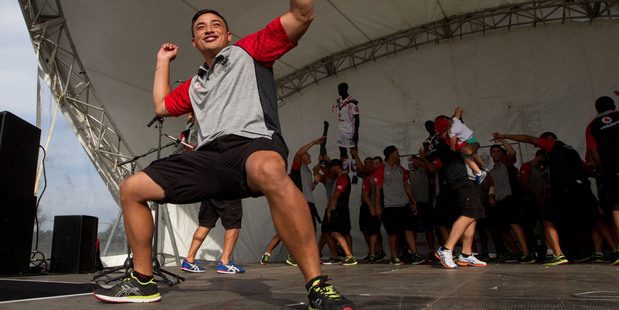 Are the days of the Harlem Shake, the craze that has swept the web, coming to an end?
A Google search returns 400,000 entries, almost all related to the viral YouTube phenomenon of 30-second clips produced to the sound of the Baauer No 1 hit, Harlem Shake, by people ranging from schoolgirls at St Cuthbert's College, Auckland, to Norwegian grandmothers.
The video typically consists of two halves: in the first 15 seconds, a lone dancer grooves while ignored by others around them, then in the last segment, the dancer is joined by dozens of others, all energetically dancing. Well, like all crazes, it is hard to explain.
The gospel of web information, Wikipedia, lists the start of the craze as five teenagers from Australia who allegedly uploaded a video, the Sunny Coast Skate. Or maybe vlogger (video blogger) Filthy Frank. But whatever the start, the craze took off. But like all good trends, it is showing signs of running into problems.
First up this week was the fuss when Tunisian extremists tried to prevent a performance of the Shake.
AFP news agency reported that a dozen or so salafists, including women in veils and a man carrying a Molotov cocktail, showed up at a language institute where students were practising the Shake. The students shouted, "Get out, get out!" and drove the assailants off in a fist fight.
Education Minister Abdellatif Abid said a probe had been ordered into another Tunis Harlem Shake video and there could be student expulsions or the sacking of educational staff. In response, the ministry's website was hacked and a call went out on social media for the staging of a mass Harlem Shake in front of the ministry on Friday.
In the US, schools have been suspending students who use classrooms to record their versions of the Harlem Shake. In one case, in suburban Detroit, a school stopped one video, labelled White Boys Making Noise, because it contained "racially insensitive portions".
Here in New Zealand, the craze has been taken up by several sports teams - including the Blues, the Crusaders and, this week, the Warriors - but a Christchurch version riffing on the idea of a "shake" by showing scenes of the devastating February earthquake has drawn adverse comment.
Mayor Bob Parker told the Press the video was "naive", "terrible" and "tasteless".
"I think particularly some of the scenes in there show events in which lives were lost and I don't think there's any redeeming features to that at all."
But, of course, the way to really undercut a craze is to watch it go establishment. And, yesterday, as if on queue, it went to the very centre of the US establishment, the New York Times. The paper carried a lengthy feature examining the real history of the Harlem Shake; it had nothing to do with vloggers or Australian teens, said the Times, but it dates back 30 years to a dance held during halftimes at streetball games and was perfected by one Al B.
His frenetic moves were taken to a different level by Crazy Boyz, a four-man dance group, who appeared on hip-hop videos by Diddy.
Now there is a video of Harlem residents talking down the latest Harlem Shakers as pale imitators.
In the video on YouTube, entitled Harlem Reacts to Harlem Shake videos, one woman said: "We take our dance seriously. Harlemites put their own little twist on it. So their dancing is an art.
"For people to make a mockery of it, what are you saying to us? Don't offend us with that nonsense you're calling the Harlem Shake."

Charts go viral
Viral videos can help propel a song to the top of the Billboard charts. Billboard has announced that US YouTube data is now one of the factors when ranking Hot 100 songs and songs on its other charts. The new rule went into effect this week, with the viral-video hit Harlem Shake debuting at No 1. Other factors include radio airplay, digital download sales, physical single sales, on-demand audio streaming and online radio streaming. Billboard's new rule incorporates all official videos on YouTube, including Vevo.