Directing King Lear outdoors at Auckland University is just 'another cliff to jump off without thinking' for the acclaimed New Zealand actress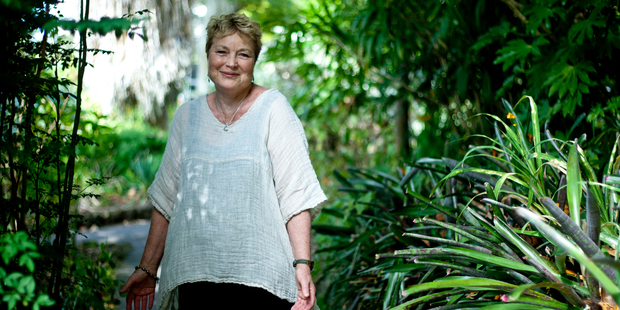 The actress Lisa Harrow is in Auckland directing the 50th anniversary Summer Shakespeare production of King Lear. She has never directed anything before. Lear is played by Michael Neill, the emeritus professor and Shakespearean expert and uncle to Harrow's son, Tim, and brother of Sam. He, Michael, not Sam, obviously, hasn't acted since the 1970s. The play's executive producer is Sam, Michael's brother, and father of Tim and so Harrow's former partner. He may have some experience in executive producing. I don't know. Sam's wife, the make-up artist, Noriko Watanabe, spent a day with the students who are doing the hair and make up. Blimey, it's a bit hard to keep up.
It is certainly hard to keep up with Harrow, who at 69, is still "someone who leaps off cliffs without thinking". Lear is her latest cliff. When she was asked, she said: "Direct King Lear? No problem.' And then they said: 'What's your vision for the play?' I went: 'Do I have to know that to be the director?' Ha, ha, ha. And they said: 'Yes!' And I thought about that for a while and came up with my environmental vision ...
You know, about man's hubris and the destruction of our resource ..."
I met the last really big cliff she leapt off before Lear before I met her. She is staying at Old Government House at the University of Auckland and I was waiting outside for her when a window was raised on the second floor and a friendly fellow called out: "Hello! Lisa's on her way down." The friendly fellow is her husband, Roger Payne, who is the famous whale biologist; the co-discoverer of whale songs. We had a very nice chat through the window about how he and Harrow live six months of the year in Banks Peninsula and the other six months in rural Vermont where somebody gave him a house. Oh, his wife said later, people are always giving him houses. He once lived, with his first wife and their children, in a former British Ambassador's house, in a huge park, in the North Bronx. The house had been empty for years so he wrote to the mayor who said he could live in it, for no rent, as long as he did some environmental consultation work for the city. It was an amazing house, with a living room as big as a bowling alley, and he lived in it for six years. Blimey again. What is it about him? Charm? "Charm," his wife said. "Charm and adventure. That's how he got me. It's not every day you meet someone who talks about whales."
I can see how you could fall in love with a man who discovered that whales sing, but "got" her? He didn't stand a chance, I'd say. They met at a rally for whales; she was "one of the celebrities"; he didn't have a clue who she was. "That night at dinner I said to a friend: 'I've met the man I'm going to marry."' They were married 10 weeks later - "He wouldn't take no for an answer," she said which made me laugh because she'd already told me she'd decided the night she met him that she was going to marry him. Let's just agree it was mutual. They only spent two weeks together before they got married and were supposed to go on a whale biologist's idea of a honeymoon - on a small boat to Antarctica, with a film crew - but she got the offer of a BBC series. So she rang Roger and he said well, if she wanted to do the job and if it would be good for her to do the job, she should do it and he and Tim, who was then 8, would go on the honeymoon. "I went: 'Well! That's the kind of guy you need to marry!"
It is a marvellous story and a very Harrow sort of story, involving as it does high cliffs and long leaps. She said, airily, while I was expressing amazement about marrying a man she hardly knew after never having been married before: "I did have a penchant for meeting people and living with them the next day."
You do rather run out of blimeys. Lear, though, is a big blimey. Because she has never wanted to direct anything or run anything. "I mean, I'm not somebody who is interested in being in charge. Although my husband would deny that." Would he really? I said, thinking that she seemed to have effectively taken over Old Government House including the vice-chancellor's suite as a dressing room for the actors and moving the composer Gareth Farr in with the new Dean of Arts while Farr is in Auckland working on the music for the production. She says the "amazing, wonderful man" who is the new Dean of Arts, Robert Greenberg, offered to take Farr in. Still, I bet there was more charm involved, this time hers, which is considerable and forceful. She said, of the dean, "he's also blind. You know, there's a blind man in Lear! - Gloucester - and I have never had anything much to do with a blind man. And so here I was, a couple of weeks ago, walking down Takapuna beach, where I grew up, with my husband and Robert Greenberg, with his hands on our shoulders walking down a beach like Gloucester walking down Dover beach with Edgar! And I suddenly went: 'Oi, oi, oi!"'
I knew what she meant. She is an oi, oi, oi! experience. She is giddyingly energetic and enthusiastic particularly when it comes to Shakespeare and whales (and the whale biologist.)
She has had a career which was giddying, early. She decided at 10 that she was going to Britain and become a Shakespearean actor and so she did. She was accepted at Rada in 1966, one of 31 students of the 3500 who auditioned, won a six-month contract with the BBC and was then offered an audition with the Royal Shakespeare Company, joined the company and in her first role played opposite Judi Dench in Twelfth Night. She has long been described as a luminous and intelligent actress. She ought to be as famous as Judi Dench, surely? She is a "purist" for one thing and is really a stage actress. She has never been interested in "decorative" roles, or in the glamour side of the industry. She doesn't watch the Oscars because she thinks all those frocks and swank have nothing to do with art. Also, she decided to go and live in rural Vermont with a whale biologist. They got married, by the way, in a stone circle in Vermont. "It was a performance, right?" She wore a simple white linen dress and a head-dress she made from wild flowers, and bare feet. She is such a hippy!
I'd asked earlier why she had hardly worked in New Zealand and she said she has asked and asked people to give her work, but they don't. But why don't they? "It could be that they think I'm too grand." Is she grand? "No, I wouldn't be doing this if I was grand."
I think she could act at being grand; she can certainly be a little withering in the face of fools. My hippy remark earned me a look which might have been thus construed, and: "It was grass, you know."
She used to get very snippy about journalists going on about her being a single mother and she said in an interview that she got to the point where she simply refused to talk about her son. She says now that, oh, she can't even remember that. I wonder if she got fed up with being the quite famous mother of the son of the very famous Sam, but there is no diplomatic way of asking (and I was thinking of the grass look ... ) I'm quite certain she never thought of herself as any less famous - in any case she is lucky enough not to give a toss about such things. Also, when she told me that her whale man is a MacArthur Fellow, which is known as "the genius award", I said: "You're married to a genius!"
She gave me another of her withering looks and said: "He's married to a genius. Get that right!" (In case that does make her sound a bit grand, I had better note that she was joking. I think.)
I thought Roger might be more famous than she is now and she said, yes, probably, but "that doesn't matter. no, no. Not at all".
Anyway, if she ever did really mind talking about Sam, she doesn't now.
She'll tell you anything, even the answers to questions you'd never dream of asking. She told me she never wanted to have children until she was 39 and became pregnant with Tim and "I finally got to the age where I thought: 'Well, it might be fun.' I had several abortions before I had Tim." I was shocked, not by the abortions, but by the telling because women hardly ever admit to them, so good for her. She is brutally honest so perhaps she frightens people just a little because brutal honesty is frightening. I admired her for it, but I can see that she might sometimes frighten the horses.
She is also terrifically funny and told me one of her terrifically funny stories, involving Peter O'Toole when she was playing Ann Whitefield opposite him in Shaw's Man and Superman. She had just discovered she was pregnant and Sam had just left her and she had a line in the play which was something like "men are like boys" and she began it sitting on a sofa. And "horizontal tears just left my face and they went out of my eyes like arrows ... And I started to shake with sobs and I couldn't stop and I thought: 'This is the moment I leave the stage and never return. I simply cannot go on because I'm heartbroken."' O'Toole moved upstage until he was standing with his back to the audience, directly in front of her, blocking her from the audience and "forcing me to look at him ... And he said: 'Yes?"' That saved her and she was able to go on. He saved her career. "He saved everything." After the curtain fell he grabbed her and said: "Baby, what's wrong?" and she said: "Sam's left me and I'm pregnant." He saved her again by telling her she didn't need any man and was perfectly capable of having a child on her own.
That's the lovely bit of the story. The funny bit is that she later found out he had "done exactly the same thing to the mother of his child, just at the same time!"
This is a funny story but I was horrified. That nice Sam Neill! Imagine!
She said: "Darling! Don't be silly. It's just what happened."
I was just being theatrical. It's catching. It is just what happened, which in her life is about leaping off cliffs. What grand fun she is.
The Outdoor Summer Shakespeare production of King Lear runs until March 30.