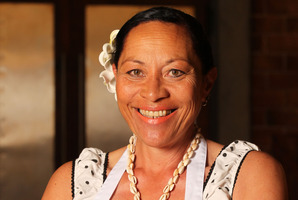 Evicted MasterChef New Zealand contestants Serena Edwards and Suzanne Huber are fusing their flavours and opening a series of Euro-Pacifica pop-up restaurants together.
Edwards became the second cook to get booted from the reality cooking show after her attempt at a traditional Mexican meal didn't hit the spot.
"We didn't understand the dish at all," judge Simon Gault said. "I don't know where she's coming from with the flavours. I don't think she's taken us to Mexico."
Josh Emett felt the same way, saying: "I think in simple terms she doesn't have a clue what she's doing."
Edwards said she had cooked Mexican before, but the traditional flavours threw her.
"It's a weird sort of taste, Mexican doesn't really appeal to me."
The former social worker quit her job to go on the fourth season of the top-rating programme, earning her spot with a pineapple passion delight cake taught to her by her Tongan/Samoan/German mother.
The single mother-of-two shed a lot of tears during her brief time on MasterChef.
She says the waterworks were triggered by thoughts of her family.
"(I get emotional) when it comes to thinking about my parents because they've passed on now," she said.
"They're really dear to my heart."
While she would have liked to extend her MasterChef appearance, Edwards puts it all in perspective.
"I've been through a lot in my lifetime. You've got to be tough. Being a single mum, I've had to work hard to get where I am."
Edwards' foodie plans have flourished beyond the show. She has cooked up an idea with the contest's first evictee, Austraian-born Huber.
"MasterChef was just a small slice of the pie and the dream," Edwards said.
"My speciality is Pacific cuisine and Suzanne's speciality is European ... we're going to be combining our cuisines and start cooking."
They're hoping to share their fusion menu with Aucklanders from next month.

* MasterChef New Zealand screens on TV One on Sunday nights. www.nzherald.co.nz will interview every contestant as they are eliminated.
- nzherald.co.nz