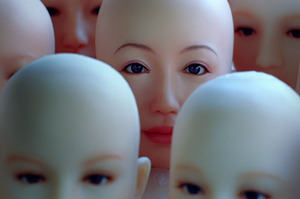 Less a documentary than a visual rapture, the new film by the man whose cinematographic credits stretch all the way back to Koyaanisqatsi in 1982 is the kind of movie to make old hippies regret that good hallucinogenics and high-definition digital video didn't come along in the same decade.
Shot (on 70mm film and output to video) in almost 100 locations in 25 countries over five years, it captures footage of randomly connected - or more often pointedly disconnected - events and sites: an ocean of pilgrims swirls around the Kaaba in Mecca; a heavily tattooed man nuzzles his newborn baby; Korean golfers fill a three-level driving range at night; monks complete an intricate sand mandala; balloons glide over jungle temples; there are factory workers, gun nuts and sulphur miners; we cut from splendour in Dubai to squalor in Shanghai. All the while the soundtrack (by Michael Stearns and Lisa Gerrard) is insistent without being obtrusive.
The title, the Sanskrit word for the cycle of death and rebirth, hints at a spiritual agenda and only the dullest of viewers would not be moved to find some quasi-sacred element to the connections between the various subjects Fricke turns his cameras on, though a politically based reading is equally tempting.
Not all the images will be new: Canadian film-maker Jennifer Baichwal's Manufactured Landscapes and the Austrian documentaries Workingman's Death and Our Daily Bread, all of which have shown in festivals here, have travelled some of this road before.
Fricke's approach is more composed - if nothing else, the sumptuously rich images remind us what a distracting gimmick 3D can be - but veers towards the preachy at times: the juxtaposition of ammunition piles with a war-wounded man is close to banal.
Conversely, some connections are obscure at best. The movie is perhaps most digestibly enjoyed when the mind does not strain to make meaning.
A hostile review in the Boston Globe compared the film to "an issue of National Geographic gone mad". It's an accurate comment, but that's the point of the film, I would have thought. You need to be in the mood. If you are, it will be unmissable.
Stars: 4/5
Director: Ron Fricke
Running time: 98 mins
Rating: PG
Verdict: National Geographic as a moving image
- TimeOut