Levitation, thought-reading and daring escapes all part of show.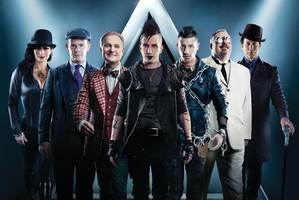 A new whizz-bang stage production coming to Auckland in May brings together seven of the world's best magicians in a show that will play tricks on your mind.
With the catch line "Witness the Impossible", The Illusionists features a mix of eye-popping optical illusions and magic, from high-risk real-life Russian roulette and acts of levitation to mind-reading and death defying escapes.
The seven crack illusionists are like the rock stars of the magic world and include "Escapologist" Andrew Basso, the "Enchantress" Jinger Leigh, who performs gravity-defying tricks, and "The Anti-Conjuror" Dan Sperry, who is like Trent Reznor of Nine Inch Nails meets David Copperfield.
Sperry specialises in the bizarre and the macabre and as an indication of what to expect his favourite movie scene is where the guy gets his ear cut off in Quentin Tarantino's Reservoir Dogs. But rest assured the show is a family friendly one.
Also appearing is Kevin James (known as "The Inventor"), who is, as his nickname suggests, an inventor of magic tricks and illusions, and he believes he has a responsibility to "remind people of that state of awe and wonder they felt as a child".
The Illusionists combines the showmanship and traditions of master magicians and illusionists of the past, with contemporary sets and costumes, cutting edge technology, pyrotechnics, and live music from the touring band for legendary New York hip-hopper Nas.
Creative producer Simon Painter says the show is a world first because the seven illusionists are the best at what they do - and it's all about spellbinding entertainment.
"From Dan Sperry's shock illusions to escapologist Andrew Basso, who performs the Houdini-inspired underwater escape, there is no other group of magicians who can deliver the mind-blowing entertainment that The Illusionists do," he says.
Preview
What: The Illusionists
Where and when: The Civic, Auckland, May 22-June 2
Tickets: From buytickets.co.nz. Pre sales for The Edge members starts 9am, today. Public sales 9am, Wednesday.