The last few years have been an emotional rollercoaster for local soul diva Aaradhna, but with the success of latest album, and her signing to a big American label, she has plenty to celebrate, writes Lydia Jenkin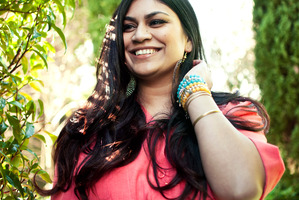 At 29 years old, exotic beauty Aaradhna Patel has already had quite the varied musical career. She's been a familiar face on the local music scene since her early 20s, when her soulful R&B voice featured on Adeaze's No 1 single, Getting Stronger.
Work with many local hip-hop luminaries like Che Fu, Savage, and David Dallas followed, along with appearances on local film soundtracks, a signing to the then high-flying hip-hop label Dawn Raid and a debut solo album in 2006 that reached number 13 in our charts with notable singles like Down Time. Then she headed off to the United States to make it big.
But behind the positive exterior, Aaradhna was struggling. She found it difficult to deal with negative feedback if it came her way, the US jaunt didn't work out, then Dawn Raid went into receivership.
Sitting at the boardroom table of her current label, Frequency Media Group, the initially shy but bubbly singer sounds a little bemused when remembering the compounding events that made her want to give up music.
"I was overly sensitive I guess. I found it really hard when people would say things like, 'oh, you suck', or when people would come up to me and say some pretty harsh things. I tried to brush it off, but it just kept building up. I just took it all on board, when I shouldn't have. And then when Dawn Raid kind of fell to pieces for a while, I just thought, 'man, what do I do?'
"I went to the States for a while to try and perform over there, and it just didn't work out. People had really good intentions, but it was frustrating. I was there for about four months, and I just wanted to go home.
"And that's when I kind of came to the conclusion that I didn't really want to keep doing it. I had no idea what I was going to do though. I was depressed, and I didn't have a plan, I didn't want to do music anymore, and I was a bit lost," she smiles.
In what turned out to be a fortunate situation, her partner was heading to Romania for work, so Aaradhna decided to head along too, which gave her a bit of downtime, as she didn't have a job.
"It's an interesting place, you know, it's third world, but it was great. I was a bit bored at first, but that's when I started writing music again. I had heaps of time to listen, and to think."
The songstress has been singing since she was a tiny tot, with both her parents great music fans - her Samoan mum would take her to church to sing gospel, and her Indian dad loved Bollywood musicals. And during her teenage years she'd become very keen on 90s R&B, along with artists like Sam Cooke, Otis Redding and the Temptations. All these influences were floating around as she had that space to sit and think in Romania, but it was Amy Winehouse's 2006 album Back to Black that really pushed her buttons.
"I'd have it on repeat every day and it made me want to dig around and find out about the older artists that influenced her. I began discovering all these old doo-wop groups like Rosie and the Originals, Little Anthony and the Imperials. So I was listening to a lot of that type of thing, doing lots of research."
Miss Lovely was the song that came first, and then her highly successful recent single Wake Up - which was a bit of a message to herself about moving forward and snapping out of her rough patch ("I didn't actually wake up at that point, I even put it aside for a while") but over the next few years she continued to churn out songs and slowly built up a strong, stylish collection of soul and doo-wop demos, recorded at home with the help of her brothers, which would become her second album of original songs, Treble & Reverb. Sure enough, the rough patch passed, and she found her groove again.
It's an album full of catchy hooks, snappy rhythms, and cleverly rides the line between sweet, feminine love songs and more indignant, attitude fuelled soul. She may not be writing hip-hop tracks any more, but her early work in the local hip-hop industry remains an influence. "They made me want to be more clever with my lyrics because they're pretty awesome. So I was trying to think like a rapper when I was writing my lyrics."
And of course it's a grand showcase of Aaradhna's vocal prowess - which is perhaps why her singles have been enjoying strong radio play, and, the biggest reward of all, why she's now been signed to American label Republic Records. It's home to acts like Florence and the Machine, Gotye, Jessie J, Mayer Hawthorne, Nicki Minaj, the Naked and Famous, and her beloved Amy Winehouse.
Though she's still not quite sure how it happened ("when Wake Up came out there was a bit of interest from a bunch of different labels overseas, but I don't know how they heard it. I guess someone must have sent it to them") she's been walking on a cloud since she found out.
"I went through this whole phase of not really being able to believe it. I actually cried when I found out. I've always dreamed about that kind of moment, so it's pretty major."
The next steps have not been entirely finalised, but it looks like Treble & Reverb will be released Stateside this year, and Aaradhna will be heading across the Pacific in the not-too-distant future to do a promotional tour and "to do whatever I have to do", she grins.
Before that though, she'll be performing in vineyards around the country, along with her longtime friend Che Fu on the More FM Summer Vineyard tour, which kicks off next week.
Who: Local soul singer Aaradhna
Listen to: Treble & Reverb
When and where: Part of the More FM Summer Vineyard Tour, with Opshop, Missy Higgins and Che Fu. Dates include Mills Reef Winery, Tauranga, February 15, and Turanga Creek Vineyard, Auckland, February 23.
- TimeOut