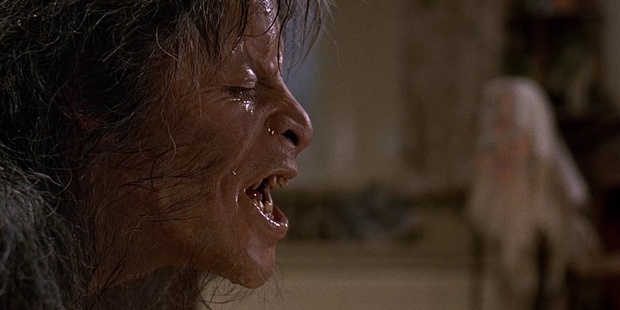 Film fans in the four main centres (sorry Hamilton) are in for a treat this Sunday evening as Event Cinemas are presenting a one-off double feature screening of two of the best creature features ever made - John Landis' An American Werewolf in London (1981) and John Carpenter's The Thing (1982).
With Auckland's apparent inability to sustain a dedicated repatory cinema like Melbourne's wonderful The Astor, these kinds of screenings are one of the few opportunities we get to see recent classics up on the big screen. It's an all-too-rare treat, and as cinemagoers it is up to us to demonstrate the commericial sustainability of such screenings by attending them.
You couldn't ask for two classier films to be paired up like this - both films are all-time favourites of mine and stand as two of the best examples of the raw power of practical special effects.
Combining horror and comedy with an effortlessness that is all but absent from contemporary cinema, John Landis' An American Werewolf In London is both genuinely scary and laugh-out-loud funny.
It stars David Naughton (Hot Dog...The Movie) and Griffin Dunne (After Hours) as two young Americans backpacking through England. After being warned away from the Yorkshire Moors by a pub full of grim-faced Englishmen (keep an eye out for young Rik Mayall!), the pair ignore the advice and trek into the night, where they are promptly attacked by a werewolf.
Dunne dies from his injuries but Naughton is now struck by the classic werewolf curse and winds up in London under the care of a comely nurse played by legendary British babe Jenny Agutter, seen recently in the hit TV series Call the Midwife.
The tone of An American Werewolf In London is quite difficult to define, but it's perhaps best represented by this NSFW scene in which the cursed Naughton sits in a scummy London porno theatre while the rotting corpse of his best buddy tries to convince him to commit suicide so he'll stop turning into a wolf and killing people.
Writer/director John Landis has made several modern classics (Animal House; The Blues Brothers; Trading Places; Three Amigos), but Werewolf endures as his most personal work. He was inspired to write the screenplay by his experiences in the late '60s and early '70s working as a stuntman on movies like Kellys Heroes in Eastern Europe, where he encountered various local superstitions.
Landis combines British absurdity with American self-regard to create a truly Transatlantic sense of humour in Werewolf, and that uniqueness has helped the film come to be regarded as a genuine modern classic.
Like his fellow Trailers From Hell contributor Joe Dante, Landis continues to work, but has fallen out of favour with mainstream Hollywood. Which sucks. His son is doing quite well as a screenwriter though.
Another reason An American Werewolf In London endures is the visceral impact of its ground-breaking special effects. Legendary make-up and effects artist Rick Baker (Men In Black; The Ring; Gorillas In The Mist) won the first of seven Oscars for his work in Werewolf, which was the first film to show the gut-wrenching physical realities of a human turning into a wolf without the use of shadows or cutaways.
It's amazing stuff, and is particularly impressive when compared with modern transformation scenes which rely too heavily on computer generated imagery (CGI), such as those in the film's belated, ill-fated sequel, An American Werewolf In Paris, which Landis was not involved in. It is pants.
Further cementing the appropriateness of their pairing for this double feature, The Thing is also remembered for the presence of cutting-edge, practical in-camera effects, and they're arguably even more impactful than those in Werewolf.
Kurt Russell stars as one of a group of men stationed at a remote base in the Antarctic who come against a relentless alien threat that consumes and replicates its victims. So you never can be sure if the guy standing next to you is an alien or not.
The film, arguably director John Carpenter's best (he stopped making good films soon after this), sustains its excruciating tension masterfully and breaks up the long periods of silence with eye-popping set-pieces that contain some of the most creatively disturbing imagery ever to be committed to screen.
During one such (again NSFW) scene, a patient's stomach opens to create a giant mouth which promptly chomps off the arms of the man applying a defibrillator to his chest. Then the man's head detaches, sprouts spindly legs and eyes, and proceeds to scuttle away. David Clennon, one of many fantastic and familiar characters actors that populate the cast, says all that can be said at 2:09.
The Thing's practical effects stand as one of the the high watermarks for the pre-CGI era. They were created by a mad genius known as Rob Bottin, who went on to do similarly impressive work in films like Robocop; Total Recall and Seven.
The modern film world appears to have little use for the talents of people like Bottin, as evidenced by The Thing's recent prequel (confusingly also titled simply The Thing) which predictably went the CGI route for most of its effects.
The 2011 The Thing isn't entirely without merit, but it utterly fails to present any visuals that compare to those Bottin created for the original.
The film famously flopped when it was released in the American summer of 1982, where audiences instead flocked to a much more friendly kind of alien - E.T. But The Thing's reputation grew over time and it currently stands as a bonafide modern classic. Don't miss the chance to see it in all its gruesome glory on the big screen.
The An American Werewolf In London/The Thing double feature plays at various Event Cinemas around the country at 7.30pm this coming Sunday, February 10th.
The Event Cinemas people tell me they have more screenings like this planned, but are still negotiating titles. Let's all show them how good an idea this is by showing up.
Oh yeah, and beware the moon.
Fan of these films? Will you be attending their screening? Do you think there should be more retro screenings like this? What films would you like to see up on the big screen? Comment below!