The Waterboys' Mike Scott tells Scott Kara about how he was inspired to set W.B. Yeats' poetry to music.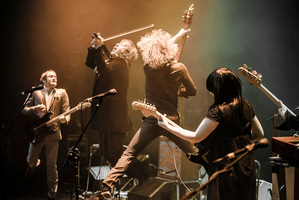 Mike Scott can come across a little terse - to the point of being like Mr Grumpy - at first. But once you get used to his manner, the Scottish musician, and founder and frontman of cosmic folk rock band the Waterboys, is likeable in his own straight-talking and, at times, high-falutin' way.
This is him on his latest album, An Appointment with Mr Yeats, a record that has been 20 years in the making and on which Scott puts selected works of Irish poet W.B. Yeats to music.
"I was determined not to make an album of Yeats' work until I had a collection of songs that was unimpeachably great."
Yes indeed, sir.
And get him talking about how the Waterboys, who play Auckland's Civic on January 21, were doing something quite unique in the 80s on albums like This is the Sea (1985) and Fisherman's Blues (1988), he's unstoppable.
"I thought the 80s were so abominable that I had to invent my own music," he says of the bad pop, hair metal and new romantic sounds of the era. "Everything I had grown up valuing in music, all of the ground that was won in the 50s and 60s by rock 'n' roll, and in the 70s by punk rock, seemed to be surrendered in the 80s and we were back to the shallow and vapid music. I didn't like it at all.
"It was a woeful development for music and it never got fully righted until Nevermind by Nirvana," he says with a laugh.
He acknowledges there was also some great music that came out of the 80s, like Prince's prolific run of albums that included Purple Rain ("I love the minimalism of When the Doves Cry") but mostly he disliked how instruments were made to sound electronic and how quickly the music dated.
It's telling then that the Waterboys' classic album, This is the Sea, with the hit song Whole of the Moon on it and its big ambitious scale, still stands the test of time.
"It was the product of discipline, hard work and the culmination of all the influences I had as a teenager," he says.
Scott reckons Celtic-flavoured follow-up Fisherman's Blues, a popular album in New Zealand back in the day, is timeless too.
"The thing I'm struck by when I hear [the title track] in a shop is how fresh it sounds. I think it's because it's a classic song without an over-reliance on what was the fashionable sound of the time. It's just a clear sound - of guitar, bass, drums, mandolin, and fiddle - rather than relying on a trendy sound that would have dated it.
"It was a time of great freedom and discovery for the Waterboys," he resolves.
Over the years there have been around 60 Waterboys. While Scott is the only constant, there are a number of other influential members, including fellow founding player and multi-instrumentalist Anthony Thistlethwaite, keyboardist Karl Wallinger, who left in 1985 to form World Party (incidentally, he was replaced by Guy Chambers, who went on to wide acclaim working with Robbie Williams), and leaping and wild fiddle player Steve Wickham.
"With very few exceptions they have all qualified as Waterboys, which means there is something special about them, they have a personality when they play music, and almost all the people who have played in the band have that special magic about them."
For Scott, Wickham has been a key part of the Waterboys since the pair met back in the early 80s. Scott had heard him play on a demo recording by Sinead O'Connor - "it was a sound I was looking for" - and contacted him to see if he was available to play on This is the Sea.
"He came to my place in London, and when he picked up a guitar and we played a song together I realised we were musical brothers and we have been ever since. So it's the combination of him and me, and the musical connection. I've been lucky to find, several times in my life, people whom I can play with incredibly naturally, as if we know what the other is going to do, and Wickham is my greatest partner."
Which is why he is still in the band today and plays an integral part on An Appointment With Mr Yeats, even though the album is very much Scott's labour of love. "When I first bought a volume of Yeats' poems in the mid-80s I noticed how they sat on the page like song lyrics, waiting for a tune. Not all of his poems but certainly many of them," he says.
He first set one of the poems, The Stolen Child, to music for Fisherman's Blues and ever since then he has revisited the poems when he feels inspired.
One of the best, and his favourite, is News for the Delphic Oracle - the first Yeats poem he ever came across - with its stirring and dramatic lines like, "the ecstatic waters laugh because, their cries are sweet and strange ... and the brute dolphins plunge".
"Yeats' words are world class. As good as it gets. So setting them to music isn't something I undertake lightly. It's something I go into only occasionally. It's something I worked on for so long and I'm really delighted how it came out."
Who: The Waterboys
What: Big and cosmic-sounding folk rock with literary influences
Where and when: The Civic, January 21
Essential listening: This is the Sea (1985), Fisherman's Blues (1988); An Appointment With Mr Yeats (2011)
- TimeOut