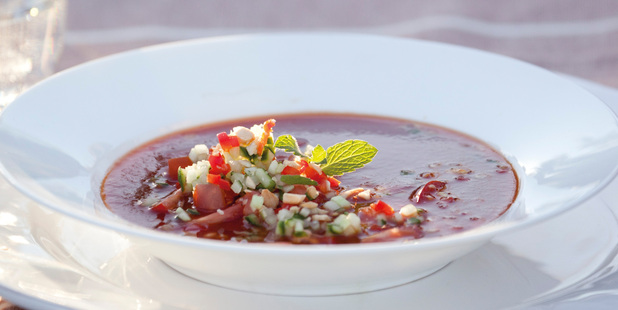 Annabel Langbein has 19 cookbooks to her name, but it is her latest series of The Free Range Cook that has gone global. The two TV series and the DVD of her TV shows are now available.
To me, summer holiday food means ...
Cooking and eating outside, the smell of a wood fire, the flavour of food cooked over embers. Fresh, clean tastes with the sweet flavours of summer produce. Simple.
When a crowd unexpectedly descends, my favourite loaves and fishes trick is to ...
Cook some couscous. Pour it into a big bowl, add an equal amount of boiling water and leave to absorb. Then fluff with a fork and add heaps of lemon juice, pesto, mint, salt and pepper, nuts such as almonds or pistachios and tomatoes and cucumber or chopped fresh apricots. Throw lamb, chicken, fish or sausages on the barbecue and serve with sauces such as raita and a spicy chutney.
Or I'd cook a big pot of pasta. It can be as simple as tossing it through fried garlic, lemon zest, chilli and pesto, or making a quick, spicy tomato sauce.
My favourite summer drink is ...
I love minty mojitos and a good ginger mule. A nice bottle of rosé for lunch when I'm in holiday mode.
In my camping/boating/picnic chilli bin/storage box you'll always find ...
A good knife, my spice box (cumin, chilli, turmeric, garam masala, coriander), fresh garlic and ginger, capers, tomato paste, lemons, olive oil, rice vinegar, salt and pepper, sweet chilli sauce, fish sauce and soy sauce.
Which I can use to make ... Anything! Quick stir-fries, simple pastas and rice or couscous-based dishes. A small "global pantry" kit can make everyday food taste interesting.
Next year I'll be ...
Working on a new TV/multimedia project with accompanying book. Top secret and very exciting. I have also been invited to present my live show (the one I did in Frankfurt in October 2012) under the Pyramid at the Louvre at the Paris Cookbook Fair in February, and have a big promotion in Amsterdam the week before. And in March I am presenting a masterclass at the Melbourne Food and Wine festival.
Be in to Win
Summer Herald has five copies of Annabel Langbein's The Free Range Cook: Simple Pleasures DVDs (worth $29.95) to give away. Thirteen half-hour episodes on two disks.
To enter go to winwiththeherald.co.nz and enter the keywords ANNABEL LANGBEIN along with your details. Entries close at 11.59pm on Sunday, December 30, 2012.