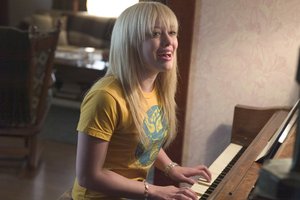 Hilary Duff admits she is permanently exhausted since she gave birth.
The 25-year-old former Lizzie McGuire star - who gave birth to her first child Luca nine months ago with her husband of two years Mike Comrie - says their relationship has changed since they had their son but they still make time for each other.
Speaking on Access Hollywood Live yesterday, she said: "It's definitely different. I'm so exhausted at the end of each day, so I'm like, 'Can this not happen at night when I'm exhausted?' You find different times to do it.
"I'm running around the house just trying to keep up with him. He's so fast . . . He's trying to talk and he's a little aggressive."
The popstar revealed she is planning to wait a few more years before having another baby.
She said: "Mike and I are literally so obsessed with Luca. He's perfect! We should just be one and done.
But I think once your kid starts getting older you miss that baby phase and you go in for round two."
The actress also admitted that she felt a lot of pressure to lose her baby weight but is "trying not to obsess" over it.
She said: "I am worried because everyone wants their body back. It's all in time, you know? It took nine months to get there, so hopefully it won't take that long to get it off. But I'm doing it slowly."
- BANG! Showbiz