Nerves abound as two of British film's most respected actors portray private life of the master of suspense.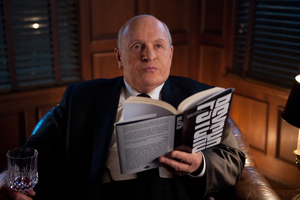 He has played US President Richard Nixon, Hannibal Lecter and vampire slayer Van Helsing - but Sir Anthony Hopkins says he still found the role of Alfred Hitchcock "daunting".
The 74-year-old Oscar Award-winner was in London together with Dame Helen Mirren for the premiere of their new film, Hitchcock.
The movie tells the story of the master of suspense's relationship with wife Alma Reville during the making of his 1960 hit film Psycho.
Speaking on the red carpet outside the British Film Institute on London's South Bank, Sir Anthony said he was "a little nervous" about the role.
"I didn't want to hear my voice back or see any of it, I wouldn't see any playback because I didn't want to shock myself," the Welshman said.
"I saw the film when it was finally cut together and I was very pleased with it. It was a tough role to play, just tricky because everyone knows him and he has been such a formidable presence in our living rooms through the years and probably the most famous director of all time - so it was daunting."
Sir Anthony, who used a prosthetic "fat suit" to get into the director's skin, also defended Hitchcock against critics that say he had a dark side.
"I don't think he was a monster - he was very witty, he didn't tolerate small talk," he said. "He was a very practical man and he didn't have any time for nonsense."
Dame Helen described her character, Hitchcock's wife Alma Reville, as the director's "artistic and domestic rock".
"People say there were four hands on Hitchcock's movies and two of them were Alma's," she said.
Asked what is was like collaborating with Hopkins for the first time, the 67-year-old said: "I was nervous, as you can imagine, he is such a hugely iconic actor and so brilliant. But on the other hand we both come out of theatre so we had that understanding between us and it turned out to be a really wonderful experience."
First-time director Sacha Gervasi also said he had needed to overcome his nerves about working with two of British cinema's most respected actors.
He said: "I remember in the first day of rehearsals I was sitting there, watching them read the scenes, and I thought 'My God, this is extraordinary'.
"I felt like I was directing them but I was also in the front row of the National Theatre watching this unbelievable performance, so it was a fantastic experience."
Hitchcock will be in New Zealand cinemas in February.
- AAP