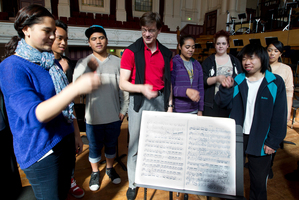 We hear too little Messiaen in concert and that is a shame, considering his importance and the infinite approachability of his music. The Ascension, four 1935 "symphonic meditations", was a spiritually uplifting launch for Auckland Philharmonia Orchestra's season finale on Thursday, under music director Eckehard Stier.
Messiaen's opening vision of Christ, sounding like a roving improvisation on a heavenly organ, billowed and bloomed, despite an occasionally ragged ensemble.
The work's first Alleluia was caught by birdsong-like wind sonorities, nestled in between sinuous orchestral unisons. The second, led by a jaunty trio of trumpets, was answered by Christ's final prayer, in which the rapturous string chorale echoed what wind and brass had given us to open the piece.
After interval, Stier continued his Mahlerian journey with the popular Fifth Symphony.
If Mahler considered that the symphony should embrace and reveal the world, then here the first movement alone is a veritable universe.
Stier and the musicians relished cataclysmic contrasts, from the stark almost military ambience of the first pages, with trumpeter Brent Grapes in fine form, to sad klezmer-tinged laments, realised in exquisite detail.
Terrifying moments, in which it all erupts into a wild, expressionist wake, chilled with their unnerving exhilaration.
In the Scherzo, Stier showed us innocence caught in the clutch of life, as naive, folkish dances wove through the tumult around them.
After a poised and poignant Adagietto, there were more eruptions in the Finale, looking forward to the musical and psychological fragmentation of symphonies to come.
This superb concert was launched by chief executive Barbara Glaser, optimistic about the outcome of the Government's orchestral review.
Glaser also paid tribute to the retiring Brecon Carter who, through more than three decades of loyal service, much of it as concertmaster, has seen the orchestra rise to its fully professional status.
Would that The Edge was as professional in its upkeep of venues. Once again, noisy, cantankerous air conditioning usurped the more reflective moments of both works. Surely this can be put right before a new season is upon us?

Review
What: Auckland Philharmonia Orchestra
Where: Auckland Town Hall