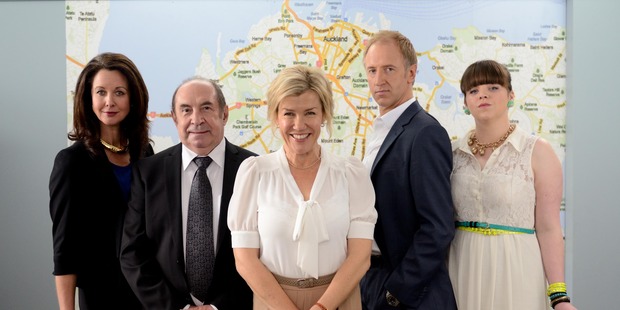 Though the question of who'll be in the hot seat for Close Up 2.0 might be keeping media-watchers entertained, actual telly-watchers will be pleased to know Television New Zealand will also have something new for folks to watch after 7.30pm next year.
TVNZ unveiled their primetime new show line-up for 2013 last night, the announcement confirming the returns of 2012 big-raters like New Zealand's Got Talent and a fourth season of MasterChef to One and a new-look Go Girls and a rejigged Mitre Ten Dream Home to Two.
And his fans will be pleased to know the supply of shows featuring famously bolshie Brit celeb chef Gordon Ramsay has not run out yet. Then again, neither has the BBC-backed natural history output of the venerable Sir David Attenborough whose Attenborough's Africa is in the 2013 line-up.
Among big new local shows coming to TVNZ prime time is Agent Anna, which marks the return of Robyn Malcolm to our small screens for the first time since Outrageous Fortune.
She plays the titular Anna, a newly solo mother, who, left in serious debt by her departing husband has become a real estate agent. The comedy also stars Roy Billing and Theresa Healey.
The rest of One's new local additions are mostly reality fare. Showtime is a behind-the-scenes look at three different amateur-dramatic productions heading to their opening nights at community theatres around Auckland; Meet the Frockers follows women making wedding dresses for a variety of brides and budgets; Women in Blue looks at the lot of the modern New Zealand policewoman; and Beyond The Bombays is a show from the makers of Intrepid Journeys and South which offers a "series of intimate portraits focusing on ordinary New Zealanders and their connection to a particular landscape" in those bits of the nation where not a lot of people live.
Meanwhile on Two, Go Girls will enter season five with a new quintet at its centre - now that Amy, Britta, Brad, Cody and Kevin are all a bit past it (getting married, having kids, that sort of thing), it's time for Candy, Alice, Bennie, Ted and Levi to take over the 20-something dramas.
Though the above local offerings will definitely make it to primetime, the flash new US imports aren't always a sure bet - Pan Am and Alcatraz may have been banner announcements for the network for this year, but neither has been screened by TVNZ yet - though the one-season of the aforementioned 1960s air hostess series is finally coming to One in the primetime dead zone of Saturday nights near the end of this month.
TV2 is getting a new raft of US sitcoms of 2013 - at first glance few there's not much to suggest they'll be anything but the usual generic fare. Fans of Sex and the City might be curious about sort-of-prequel The Carrie Diaries which follows Ms Bradshaw's teen years in the 1980s.
Here's a guide to some of the other imported shows TVNZ hopes will make life on the couch more interesting in 2013:
Crime and mystery
The Following (One): With Kevin Bacon in the role of a battered veteran FBI agent on the trail of an escaped serial killer - a university professor with a web of followers - that he originally put away, this looks set to be a quality thriller.
Red Widow (One): Aussie actress Radha Mitchell stars as a Californian housewife whose must protect her family after the slaying of her mob husband.
666 Park Avenue (TV2): Horror series with Terry O'Quinn (Lost) as the devilish owner of a New York apartment building, The Drake, which may harbour supernatural forces making life difficult for the residents.
Zero Hour (TV2): Conspiracy thriller with Anthony Edwards (ER) as a professional sceptic who has made a career of debunking supposedly mystical things who is pulled into a grand mystery when his wife is kidnapped.
Arrow (TV2): Superhero series which helps the great archery revival in pop culture by bringing back DC Comics' The Green Arrow - aka billionaire Oliver Queen - as he draws his bow on the underworld of Starling City.
Other dramas
Nashville (One): Acclaimed series about folks trying to get ahead in the famed music city which stars Connie Britton as a veteran country singerstar slowly being superceded by the young, cocky, and not particularly talented Hayden Panettiere (Heroes), with Britton determined to make sure her craft isn't lost to auto-tune and glitter.
Mr Selfridge (One): Brit Series based on the life of American entrepreneur Harry Gordon Selfridge - a man who revolutionised shopping when he opened his eponymous department store in London in 1909 - and the women who surrounded him.
Scandal (One) This new show from Shonda Rhimes (Grey's Anatomy, Private Practice) stars Kerry Washington as a hard-hitting crisis management agent, who sometimes gets calls from the President to help sort out stuff.
Mistresses (TV2) : American remake of the BBC adultery drama starring Alyssa Milano.
Out of Australia
House Husbands (One): Oz bloke drama about four men with different backgrounds and different attitudes raising the kids, cooking the meals and taking care of all matters domestic while their significant others are working nine-to-five.
Puberty Blues (One): Aussie best-seller which was made into a movie in the early 80s, Puberty Blues follows two teenage girls living in Sydney in the 1970s, facing the conflicting influences of family and friends, and wanting to grow up in a hurry.
A Place to Call Home (One): A big-budget vast-cast romantic saga set in rural Australia in the 1950s about a woman whose return to the district makes life difficult for the local big-wigs, the Bligh family.
- TimeOut