They work hard, but Hot Chelle Rae like to have fun too... that's why they're more irresponsible than Taylor Swift.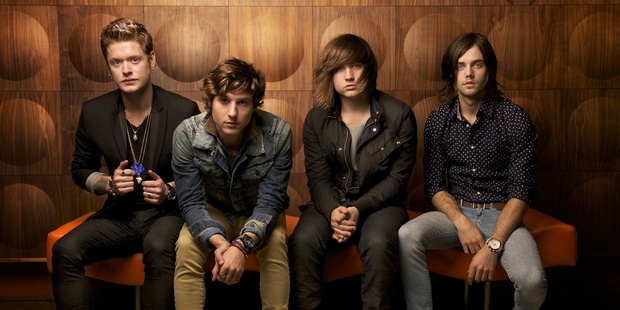 There's a line in a Hot Chelle Rae song that goes, "I'll go out and get drunk again, make out with all your dumb friends, just to rub it in".
It's called Honestly, about a control freak girlfriend, and it might sound spiteful, but singer and songwriter Ryan Follese really is a nice young chap. Honestly.
He's excited about returning to New Zealand for a show tomorrow night at Vector Arena - they also played in Wellington last night - after their support slot for friend and fellow chart sensation Taylor Swift this year.
"It's going to be awesome," he says on the phone from a place called Canandaigua, New York ("It's not exactly the middle of nowhere, but I feel like it's second cousin to the middle of nowhere."), where the band have been on tour before their New Zealand and Australia headlining dates.
It has to be said - and Follese is the first to admit it - that with their cheeky and sometimes baiting lyrics, the four pop rock heart throbs from Nashville are far more mischievous and badly behaved than Swift.
"She is much more responsible than we are," he laughs again. "We're really hard working but at the end of the day we like to have fun so we're definitely much more irresponsible."
The band are best known for last year's bouncy and cute pop rock single Tonight Tonight - the video has been viewed almost 32 million times on Youtube.
But it's not as if HCR showed up out of nowhere because Follese formed the band with guitarist Nash Overstreet in 2005 and later recruited friend and bass player Ian Keaggy and then Follese's little brother Jamie joined in on drums.
"It's funny, everyone thinks it was Tonight Tonight that was the turning point for us, but in the States we had a ballad called Bleed off our first album," he says. "That gave us our first presence. So that was really the turning point and so we've been doing this for seven years."
And now these four 20-somethings are making a mighty fine living travelling the world playing to screaming crowds (of mostly girls), and as well as supporting Swift this year they also opened for pop singer and X Factor USA judge Demi Lovato on her US tour.
The Follese brothers come from a songwriting family, as does Overstreet - his father is country music singer-songwriter Paul, who has written No. 1 American hits for the likes of Blake Shleton and Randy Travis.
Follese says that when he was 5 he told his father, Keith, a prolific songwriter who has worked with Faith Hill and Tim McGraw among others, that he wanted to write songs too.
"I've always wanted to do it, and it's in our blood, and I think it's in all of our blood because we all grew up in musical houses and there was nothing that was going to change it."
But his father's country roots don't rub off on Follese as a songwriter. He's more in the uplifting, catchy, and cheeky pop song market as Honestly shows.
"I love country music, but I look miserable in a cowboy hat," he laughs.
Follese was born in Los Angeles, but his family moved to Nashville soon after and Music Cit has had an influence of Hot Chelle Rae's brand of pop.
"It comes through in our music because no one tells a story better than a country musician. But in pop music, you still have to tell a story, but it's a bit more complicated because -and this going to sound terrible when I say this - it just has to be simpler.
"So I definitely learned how to write songs from country music - and the Beatles."