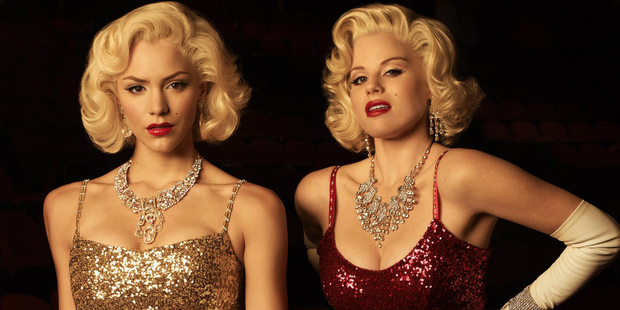 It sounds better than Glee. But is Smash (Thursdays, TV3, 9.30pm) a good name for a television show, executive-produced by Steven Spielberg no less? Sure, it encapsulates what this glossy new drama is all about - the hopes and dreams of those making a Broadway musical about Marilyn Monroe.
But it's also what Captain America says to the Hulk in The Avengers as he rallies the troops to pulverise the enemy. It's also one letter away from a military sitcom that ran for 11 years, and two letters from describing an undignified state of consciousness. You can't deny it's not an invitation to view the series as a wreck.
Three episodes in, however, while it's definitely no wreck, it's not quite smashing. There's a lot to like, just as there's a fair amount of soapy ridiculousness and floury piano music to snigger at. Just as you might have at, say, the original Beverly Hills 90210, while pretending you didn't know who Kelly Taylor was.
On the plus side, anyone who appreciates an insight into the creative process will enjoy the show-within-a-show concept. The two lead actresses play actresses coveting the Marilyn role, although, last week, Ivy Lynn, the Broadway veteran looking to break out of the chorus line, won out (for now).
She also slept with the director, Derek, so is now having doubts as to why she got the part. Not the real director, silly (that's both Michael Mayer and Michael Morris); the fictitious one, played by sexy Brit Jack Davenport. Who is not to be confused with Dev, also fictitious. Dev goes out with Karen, the Iowa ingenue with more authenticity playing Norma Jean than Marilyn. And in case you missed the show-preceding-the-show-within-a-show connection, she's played by Katharine McPhee, the 2006 runner-up of American Idol.
The singer-turned actress does well alongside her experienced cast mates. They include Will and Grace's Debra Messing as Julia, one half of a successful musical-writing partnership and Anjelica Huston as the show's producer, Eileen, whose divorce has literally turned messy (fabulously, she throws manhattans in his face whenever she bumps into him at her local).
Smash has tension at every turn, and not just between the singing rivals, each of whom enjoys a spark with dastardly Derek. There's also Julia, who annoys everyone from Tom, her creative partner, to Tom's assistant Ellis, to her husband, Frank who may renege on their plans to adopt a baby from China and go back to work, to her son who, inexplicably at the age of about 17, still wants a baby sister.
The music is also of a standard you'd expect to find on the stage. Although I can't say I enjoyed the occasions when the characters broke out in song when not in rehearsal, or the sappy ballads; give me the swing numbers any day. Nor can I shake the feeling that parts of Smash are over-written. That American habit of spelling things out just spoils the fun. Last week it was implied, through a little technique called acting, that Julia might have a history with Michael, (no, not one of the real directors; the guy who gets the part of Joe DiMaggio).
What spoilt it? When Julia came right out and told Tom about their affair. The same could be said of Ivy's doubt over her casting, which could have been merely suggested. Instead, she asked Derek, point-blank. Then there was this line, from Michael/Joe DiMaggio, while gazing at his kid: "I just want to be a great father." Congratulations. Who says that?
Oh well, it's still huge fun reliving those old 90210-style guilty pleasure pangs. Nick Jonas shows up in tonight's episode. Will I smash my face through the TV set when he starts singing? We'll see.
- TimeOut