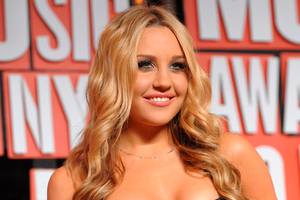 Prosecutors have charged Amanda Bynes with knowingly driving on a suspended license. It's the third court case the actress has racked up in recent months.
Bynes was charged on Friday (local time) with two counts of driving on a suspended license. The charges stem from an incident Sunday that led to her car being impounded.
Bynes faces two other cases - a drunken driving case and a hit-and-run case involving two accidents. Bynes' driver's license was revoked in August, and a judge last week ordered her to stop driving.
The 26-year-old Easy A actress denies she is responsible, saying she never drinks and drives, as well as claiming she is quitting acting.
She said: "I am doing amazing. I am retired as an actor. I am moving to New York to launch my career. I am going to do a fashion line. I am not talking about being arrested for DUI because I don't drink, and I don't drink and drive. It is all false."
Her attorney Richard Hutton was not available for comment.
The new charges were first reported by celebrity website TMZ.
Bynes has been dropped by her agent, publicist and entertainment lawyer.
The troubled actress has been abandoned by three of her team in recent weeks, with them all claiming it is due to her behaviour becoming increasingly erratic in recent months.
One source told TMZ.com her management team haven't been able to get in touch with the former child star in a month and attempts to get help her before she went under the radar had all failed.
Bynes was involved in two bizarre incidents earlier this week, locking herself in a store changing room for nearly two hours and refusing to come out and stripping off during a gym class.
An onlooker in the class said: "Amanda stopped to take her T-shirt off, revealing only a tiny, black, strapless push-up bra - not a sports bra.
"She then picked up her Louis Vuitton handbag and pulled out her makeup kit and started reapplying her lipstick and eyeliner while looking at herself in the large mirror in front of her."
- AP, BANG! Showbiz