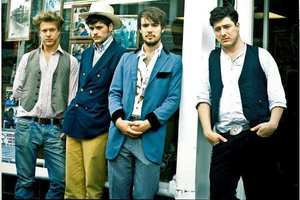 Mumford & Sons star Marcus Mumford has confessed to lifting a line from author Hilary Mantel's Booker Prize-winning book Wolf Hall for a song on the group's new album Babel.
In a recent interview with BBC Radio, the singer admitted he was so inspired by the historical novel, he took a line spoken by Mantel's central character, Thomas Cromwell, and incorporated it into the lyrics of a new tune.
And he accepted he could be in trouble with the author's publishers, stating: "I'm not going to tell you which, because I think it might be illegal."
It's not the first time the literary songwriter has turned to his favourite writers for inspiration - the title of the band's hit debut album Sigh No More hails from the opening of William Shakespeare's Much Ado About Nothing.
An avid Mantel fan, Mumford reveals he has already read Bring Up The Bodies, her follow-up to Wolf Hall - which has been shortlisted for the 2012 Booker Prize.
He admitted that literary references pepper the band's lyrics, saying there were "too many to count".
Babel is due out in October. The band is touring New Zealand in November.
- WENN