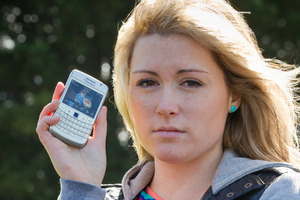 At first, Cara Selway was confused when she started getting texts like "Hey hot vodafone boy" and "I have some whitebait fritters for you" from random numbers at the weekend.
Soon the university student was getting hundreds of messages from unknown contacts - it turns out her number is just one digit different from the one Vodafone is urging people to text in its latest television campaign, launched on Sunday.
"I eventually figured out what was going on after Googling the ad. But because I wasn't responding, people kept text-bombing me, like four or five texts in a row saying, 'What's going on? I thought you had to text back!'
"So I eventually started texting them back but then the people would say, 'Oh, well I want to talk to you now, who are you?' and so on. It's been a wee bit excessive," Ms Selway said.
By yesterday evening, the 24-year-old, from East Auckland, had already received at least a couple of hundred texts from people mistaking her number for the one on Vodafone's television commercial.
However, after being contacted by the Herald yesterday about Ms Selway's predicament, Vodafone changed the telephone number in the commercial, apologised and credited $200 to her account for her trouble.
Vodafone's latest campaign features Boy actor James Rolleston boasting about how much data and how many texts he gets on his plan.
"In fact, I reckon if you guys flick me a text I could probably reply to every single one of youse," he says to the camera as a torn piece of cardboard with a nine-digit number appears at the bottom of the screen.
"It's not every day you get a celebrity texting you, eh?" Rolleston says towards the end of the commercial.
Ms Selway said a lot of people were surprised when they didn't get a reply from a film star, just a University of Auckland psychology master's student who was growing increasingly frustrated at the mix-up.
"Nope, just me - a real person getting all these texts," she said.
Vodafone's general manager of brand and communications, Bart de Beucker, says a lot of customers have texted and called Rolleston and have enjoyed this interaction.
Some of the texts
"Hey hot vodafone boy, what up?"
"I have some whitebait fritters for you."
"Chur boy."
"You're Boy!"