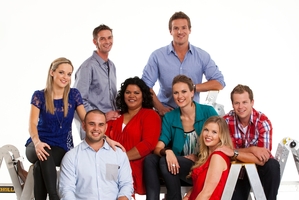 They said they weren't nervous. "All good," reckoned Tyson. But auctions are nerve wracking enough with out having a good chunk of the TV-watching nation tuning in for a nosey.
So there must have been some butterflies when the houses of Ginny and Rhys, Rachel and Tyson, and the rest of The Block NZ gang went under the hammer on the finale.
And there would have been a few nerves behind the scenes too because this two-hour show was live TV at it's nail-biting best.
Not because it was intense and riveting, with much of the show made up of fluff and filler, but because the outcomes of the auctions were so unpredictable.
Last year on The Block Australia three of the houses were passed in.
What a fizzier that show must have been. At least they all sold on The Block NZ, even if Rachel and Tyson (love you guys) didn't make a profit.
Also, while auctions are tense, they're not the stuff of riveting action-packed DIY reality show fodder.
That is unless the first up auction nets the brother and sister pairing of Ben and Libby a profit of $157,000 - their house went for $961,000 - which was easily good enough for the win.
"Surreal. Out of body," is all Ben could say.
As well as the auctions the show did what it did very well over the course of its ten week run - padded out the program with a sometimes laborious mix of live interviews, recaps, and, taking inspiration from American Idol, the "journey" the teams went on was also documented. Though from memory Rhys had far better one liners than the ones they used - like "We don't do soft in Taranaki" for example.
But what came through, right to the bitter end, was that they were all a lovable and likable lot.
"We've got so much more than money to take away from this. We had a great time," said Tyson.
And give cheeky and slick anchorman Mark Richardson the best TV host of the year gong right now. Because despite the sponsorship heavy format he pulled the show together - both during the series and live - masterfully.
* Did the right couple win? Post your comments below.