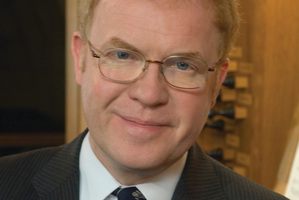 When John Scott first visited Auckland in 2006, it was a basically Baroque affair, featuring the Englishman on chamber organ, in a programme with Indra Hughes' Musica Sacra choir and AK Barok.
Scott's second visit, on Wednesday, was another commendable Hughes initiative, bringing him to the heart of the city, to take advantage of the town hall's restored Klais organ.
Setting off breezily with Norman Cocker's Tuba Tune, Scott's solo selections even included an imposing transcription of Mendelssohn's St Paul Overture by that stalwart Victorian, William Thomas Best.
Throughout, deft foot- and fingerwork, along with a keen ear for registrations, were the hallmarks of his playing.
Not all was lost when a Handel Concerto appeared without its orchestral accompaniment; there was still much to enjoy with Scott's elaborate ornamentation in the Larghetto and his effective highlighting of a later Siciliana tune.
Ingenious and ear-catching sonorities were not enough to redeem a Grand Choeur Dialogue by Gigout, trapped in a tedious and repetitious rhythm rut, very much shown up by the subtly coalescing hues of a Durufle Prelude that followed.
There was humour when Scott swaggered through Charles Ives' Variations on America and offered us Guy Bovet's marvelously titled "Le Bolero du Divin Mozart" as an encore.
This whimsical powdered-wig pastiche of Ravel was undeniably clever, even if one waited in vain for the one dramatic chord shift of the original. But then perhaps that was part of the joke.
Chorally, Musica Sacra was in good form even if Vaughan Williams' O clap your hands, with splendid support from Auckland Philharmonic Orchestra percussion and brass players, was the most rewarding of three offerings.
Scott's own Missa dies resurrectionis was slight, liturgical rather than concert material, although it was easy to be seduced by the keyboard stylings in the Sanctus and some Monteverdian merriment in the Gloria.
John Rutter's Te Deum was the Grand Finale, and the English composer's contrived mix of the religioso and brass-laden rhetoric was a predictable crowd-pleaser.
What: John Scott & Musica Sacra
Where: Auckland Town Hall
When: Wednesday