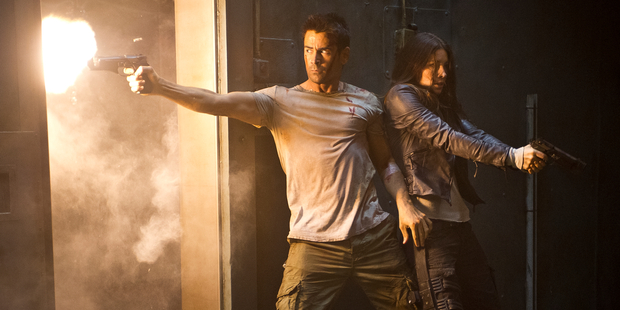 Say this for Total Recall, it's a rare movie that retains its own sense of wonder throughout.
Like if you wondered why they've remade the 1990 Arnold Schwarzenegger sci-fi schlock fest going in, you are still going to be wondering much the same thing after it's all over.
Though it must be said, this is quite a different spin on the Philip K Dick short story We Can Remember It For You Wholesale.
It doesn't head to Mars, like Arnie did. It doesn't do anything madly odd like director Paul Verhoeven did in the original - unless you count the cameo by the three-breasted hooker - and it certainly shows how far special effects have come in 22 years with a lavishly crumbling dystopian world, albeit one seemingly created by the town planners of Blade Runner and Minority Report working from their old drawings.
Oh and as Doug Quaid, an ordinary man who finds his life is not what it seems, Colin Farrell is clearly a better man for the acting, talking, paranoid bits than his predecessor.
What a pity then, this Total Recall starts off so promisingly and then turns into a tedious videogame blast-athon. Like the original, Quaid finds - as his nightly action-packed jailbreak dreams have hinted - that he's not an ordinary bloke working on a robocop assembly line.
After a visit to the memory fiddlers Total Rekall, he finds he's a marked man and that Kate Beckinsale, who we meet as his loving wife, is anything but. So off he goes on the run with the gal of his dreams, Jessica Biel.
Going desperado gets them to a rebel leader (an underused Bill Nighy), and involves a despot government leader (an underused Bryan Cranston) who likes to do his own fighting despite his many robocops.
Meanwhile Beckinsale runs around in a bit of a lethal huff, though her hair looks really nice throughout.
So no, once the movie's main mad rush kicks into gear, the character development is soon jettisoned, with much story logic following soon after.
Of course, this being from director Len Wiseman, whose Underworld flicks exuded much dark, if derivative, visual style, there are some cool bits. Like the flying car chase which is is quite something.
And the giant elevator through the centre of the earth - dubbed "The Fall" - which takes workers like Quaid on a daily commute between the futureworld's only inhabitable regions.
That consists of the cluttered "United Federation of Britain" and the antipodean Colony, an industrialised Asian-ised version of Australia. Which, unless this is the first American sci-fi movie to advocate for Aussie republicanism, makes even less sense than going to Mars.
Perhaps the Colony sweatshop was meant to represent China in earlier drafts but its makers shied away from the resonant political allegory because it would have killed the fun. Or put at risk distribution possibilities in a very big market which possibly never got to see Arnie pull that shiny tracker thing out of his nose in 1990.
This Total Recall does start off promising deja vu sci-fi action fun. It just winds up utterly forgettable.
TOTAL RECALL
Cast: Colin Farrell, Kate Beckinsale, Jessica Biel
Director: Les Wiseman
Rating: M (violence offensive language & nudity)
Running time: 118mins
Verdict: Best forgotten
Stars: 2/5