Kelsey Grammer reinvented himself in Boss, the hard-hitting political drama in which he plays the ruthless mayor of Chicago. With the show's second season imminent, he talks to Hannah Tattersall.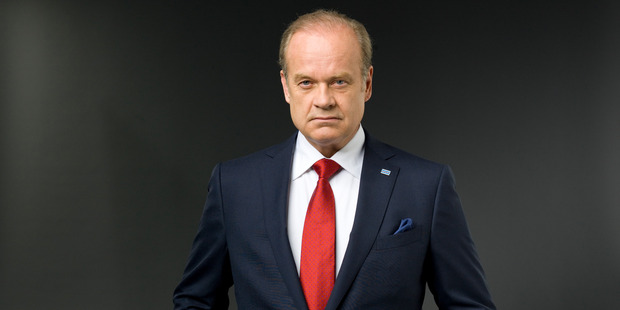 Kelsey Grammer fits the part of arrogant Chicago mayor Tom Kane like a glove.
His intense portrayal of the corrupt politician hiding a life-threatening disease in Boss, won the actor a Golden Globe this year - his first for a dramatic role.
But for Grammer, better known to audiences as the funny-guy on long-running television sitcom Frasier, the transition from comedy to drama was not an easy one.
Grammer played psychiatrist Dr Frasier Crane for two decades in three different television shows - Cheers, Wings and Frasier. The latter ended in 2004 after an 11-series run, four Emmys for Grammer and a huge and loyal fan base (20 million in the US tuned in at the show's peak in 1999.)
Since then, on top of roles in 2006's X-Men: The Last Stand and 2008's Swing Vote, Grammer has lent his recognisable, gravelly voice to a number of animations including Toy Story 2 and The Simpsons - in which he voices the villain Sideshow Bob.
More recently, Grammer picked up work in a couple of new sitcoms - but they were cancelled after just a few episodes.
Not that Grammer was kept out of the public consciousness. The popular actor, has a sex tape, cocaine addiction and four marriages under his belt - one to a former Playboy model and Real Housewives of Beverley Hills star - which has made him tabloid-famous. And a few years ago some media outlets closely followed the trial of one of the men responsible for the brutal murder of his sister Karen in the mid-seventies.
By the time Grammer met with Boss creator Farhad Safinia to discuss potential projects, he was ready for a challenge - and perhaps a new form of escapism in the vein of drama.
"Frasier hangs pretty heavily over my career," says the actor, 57. "It was just a departure and one that I thought was overdue."
Loosely based on Mike Royko's eponymous book about the late, controversial Chicago mayor Richard J Daley, Boss evolves around Tom Kane, Chicago's ruthless, destructive mayor and the emotional and political power games he plays with those around him.
Gus Van Sant (Milk, Good Will Hunting) directed the pilot episode and set the tone for a dark and moody show where wide, raw shots of the city are juxtaposed with intense close-ups of actors' eyes, hands and lips.
Billed as the show that would propel US cable network Starz to superior ratings - much the way The Sopranos did for HBO or Mad Men for AMC - the cast and network were surprised and disappointed when the numbers plummeted towards the end of the first season.
Nevertheless, Grammer's part in the series has been closely observed, with critics mostly praising his talent for drama. The Hollywood Reporter described his dramatic turn as "stunning" and "eye-opening", while the Los Angeles Times said, "Grammer is able to give Kane the oratorical grace of a modern-day King Lear."
Safinia created the role of Kane for the actor, and while neither he nor Grammer himself doubted he could play the part, they did worry audiences might.
"The only thing I thought might happen would be the audience might resist this character," Grammer says, adding that the first episode of the first season was designed to inform viewers that Grammer had changed roles.
The scene, in which Kane learns he has a debilitating brain disease and less than five years to live, is "designed for people who know me as Frasier to look at the face, get the information," Grammer says.
"And we all felt, arguably, that it pretty successfully convinced people that I was no longer [Frasier]."
As for working on a drama, he actually finds it easier than comedy.
"Comedy is difficult," he says. "It has to be rooted in reality for it to earn a laugh or earn tears or some sort of empathy. The personal process is easier in drama because you just get to come in naked, basically.
"If you trust your skills and learn the lines, what happens is always right. In a comedy that's not always the case - you have to allow for timing and rhythm and projection."
In the second series of Boss, Kane's relationship with his disease is further explored. Like most of the people around him, the disease becomes an enemy.
"You know, people with disease talk about how you end up embracing it or resisting it or fighting it and this is what is going on with him this year, without telling you too much."
When we left Kane at the end of series one, his relationship with his wife Meredith (played by Connie Nielsen) was on shaky ground, and he had betrayed his daughter Emma (Hannah Ware) in pure Shakespearian fashion.
Shakespeare had a big influence on Boss. "We made a choice to make an epic drama - and the best are Shakespearean," says Grammer, who studied acting at the Juilliard School and made his Broadway debut in Macbeth, in 1981 (he reprised the role on Broadway in 2000).
"We wanted a larger-than-life guy, so I guess there's a stage element to [Kane] under this performance. We see a lot of dynamic performers who don't tend to bring that vocal presence to a performance and this guy needs it: he's a great orator, great public speaker - that's one of his political instruments."
When Kane betrays his daughter by putting her in jail, "It's the same scene as when King Lear says 'nothing will come of nothing' and he banishes her," Grammer explains.
To prepare for the role he met former mayor Richard M Daley (Richard J Daley's son), and current Chicago mayor Rahm Emanuel. "I reassured them that it wasn't really about them, as they were both nervous," he laughs.
"Now what's funny is people will come up from both administrations and say, 'you know that guy, that's me'. Dear God, why would you ever claim that?"
But most of Grammer's political understanding has come from observation, he says.
"We grow up in the political process in America so much. If you're paying attention, this is something you sort of take as second nature."
A staunch Republican, at one stage Grammer even had his own political ambitions, although he says Boss may have stifled them.
"At the end of my life ... like the last act of my life, I thought I might try to serve in some capacity. I don't know and the role has maybe affected my appreciation for it. It might be a world I'm not that interested in," he says.
For now, Grammer is busy with his other roles. His fourth wife, 31-year-old flight attendant Kayte Walsh, gave birth to a daughter in July. And Grammer has a serious acting career to focus on.
Acting is "a marathon, not a sprint," he says.
"When I was a young man wanting to be an actor, I thought, 'I'm going to do all right at this. I just have to be patient and allow the richness of my own life experience to start to pour into characters.' I started working early ... it's a more rich experience now."
Who: Kelsey Grammer
What: Boss season two
When and where: Starts September 1, SoHo, 8.30pm