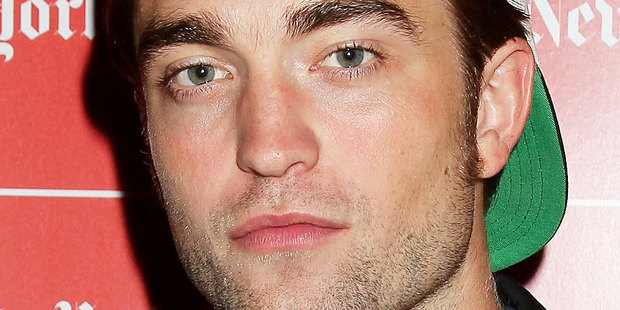 There's certainly been no shortage of opinions dispensed surrounding Twilight heartthrob Robert Pattinson's shock breakup with long-time girlfriend Kristen Stewart.
And the latest pundit to pontificate and wade in waist deep on the melodrama? Actor D.B. Sweeney.
D.B. who?
Sweeney's acting credits include movies such as Eight Men Out and The Cutting Edge. The 50-year-old has also appeared on shows including The Event, 24, and Jericho.
And here's an interesting nugget: Sweeney recently worked on the movie K-11, which was written and directed by Snow White and the Huntsman star Stewart's mother, Jules Stewart.
Sweeney ignited somewhat of a Twitter war over the weekend when he dared to suggest that Stewart was right to cheat on Pattinson.
"Just saw Pattinson on #DailyShow trying to figure out what took k-stew so long to look around with this douche astride her. #holytwit," he wrote.
A stoic Pattinson appeared on The Daily Show last week. It marked his first TV appearance since Stewart admitted to and publicly apologised for her "indiscretion" with director Rupert Sanders.
Check out Pattinson's appearance on the show below:
Sweeney immediately incurred the wrath of R-Pattz fans and Twi-hards alike after his out-of-nowhere Twitter roast.
"@actordbsweeney how bout NOT talking about this at all? That would be more professional...but guess any PR is good PR for you?" tweeted one fan.
"@actordbsweeney I hate you. Do not mess with Rob," replied another.
"Don't talk sh*t about the greatness which is Rob when your credentials can't even match his," wrote one of his followers.
Chimed another: "@actordbsweeney woah looks like someone pissed off a bunch of 13 year old girls and 45 year old single women with a cat collection!"
But Sweeney continued to goad the fans by retweeting several irate messages he'd received from Pattinson supporters.
"Hey #twilight genuises try decaf! A little too worked up over a skinny vampire," he later wrote. "Nice language twi-hards. Or should I say tards? Love the inchoate indignation."
Which promoted a snippy response from another Twi-hard: "I'm sure your director @RealJulesStew appreciates your opinion about her daughter. IRONY. Look it up."
Sweeney added hours later: "Dear twihards. Its been a difficult time. First tom and kate. Now rob and kristin im in a spiral. Youre caring abuse has been a comfort [sic]."
Pattinson has yet to comment on the brouhaha.
'A monstrous thing...'
Meanwhile, the Twilight star has blasted the media in the wake of his split from Stewart.
Speaking to the Los Angeles Times during a recent press junket, Pattinson, 26, offered his views on the intense tabloid interest in his personal life.
"Media culture is a monstrous thing," he lamented. "You can't win. The annoying thing is that you can't attack them, but you can't defend yourself. The best thing you could possibly do is punch a paparazzi and give them their big payday."
He continued: "The tabloid industry does terrible, terrible things for the world. It makes people stupid. People say [tabloids] are about escapism, and people have got to get away from the misery of the world.
"It's like, 'No, people are lazy, and they don't want to try.' Every time I've looked at a magazine like that, I've regretted it. I gain absolutely nothing from it. And neither does anyone else."
Pattinson also dished to MTV News that he's motivated by the fear of failure.
"I think as soon as you feel validated, you're a bad actor," Pattinson said. "You have to constantly feel that there's a 99 per cent chance of failure. Total failure. Devastating failure.
"You should feel like every single job is the potential where you're never going to get another job again. Not in a bad way - you should feel good about it, because then you're in it. It's all about living in the present."
Robsten fans have also been left disappointed by news that neither Stewart nor Pattinson will be attending any of the final four Twilight conventions in the US.
And *gulp* Taylor Lautner won't be there either, Creation Entertainment (which puts on the conventions) told The Hollywood Reporter.
"The passion and dedication of Twilight fandom has been amazing and we're out to throw one last giant convention, a final gathering to see old friends that have made up the Twilight family," the group told the site.
"Although Rob, Kristen and Taylor will not be with us this time out we will have a super lineup of other Twilight stars and the weekend will be filled with special events, movie prop and costume displays, contests, panels, auctions, parties, exclusive merchandise, music and much more, including some surprises!"
It's also claimed that Stewart pulled out of an appearance at the upcoming MTV VMAs.
"Bosses were hoping that Kristen and Robert would be surprise guests before this scandal blew up," an insider told The Mirror.
"The idea was for them to jointly present awards... but that has been changed."
Stewart, 22, has yet to make a public appearance following the tabloid bonanza that erupted after her dalliance with 41-year-old married director Sanders.
Rumour has it the actress will make her red-carpet return at next month's Toronto Film Festival.
Stewart will be on hand to help promote her new flick On The Road, which will have a special screening during the fest.
"Kristen will be there," a source told E! Online.
"I'm deeply sorry for the hurt and embarrassment I've caused to those close to me and everyone this has affected," Stewart said in a statement to People after her fling came to light.
"This momentary indiscretion has jeopardised the most important thing in my life, the person I love and respect the most, Rob," Stewart continued. "I love him, I love him, I'm so sorry."
Fast gossip
And finally...
* Adele's baby "coming so soon", says boyfriend Simon Konecki. Are we still talking September?
* Obama calls George Clooney a "good friend" and "good person," says he's low-maintenance.
* Rihanna stalker says that he is "sorry" for harassment.
* Willie Nelson hospitalised with breathing problems.
* Jennifer Aniston still isn't showing off her engagement ring.
* Justin Theroux spotted wearing a ring on that finger.
* Madonna sued in Russia after speaking out for gay rights.
* Rihanna tells Oprah: Chris Brown was "the love of my life".
* Busted: Andrew Garfield and girlfriend Emma Stone pulled over for speeding.
* John Lennon's killer set for seventh parole hearing.
* Beyonce releases I Was Here music video for World Humanitarian Day.
* Filmmaker Tony Scott had inoperable brain cancer, according to a report; tributes pour in from film industry.
Follow Myrddin Gwynedd on Twitter.
- Blogger Bites Back