Scott Kara talks to Wendie Malick from TV series Hot in Cleveland about how a group of women over 50 can still reel in the laughs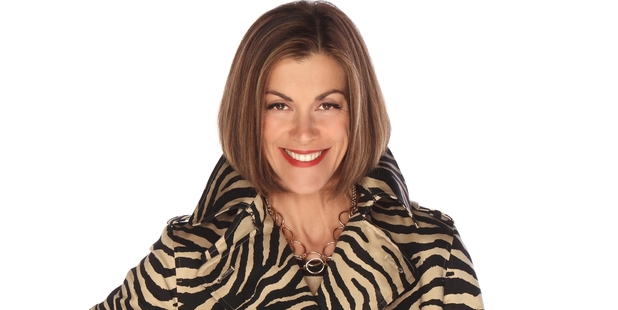 Being in Hollywood's more mature age bracket means actress Wendie Malick usually gets offered roles like mums, judges and the occasional headmaster.
"I've played two principals," says the 61-year-old with a cheeky groan.
In fact, if you're an Alvin and the Chipmunks fan you might remember her dishing out some stern words to Alvin, Simon and Theodore in The Squeakquel a few years back.
But scoring the part of vain, self-obsessed former soap star Victoria Chase in sitcom Hot In Cleveland, was a coup - something she never thought would happen, especially at her age.
"It's made me incredibly grateful because it was so unexpected. Because, you know, we're not always treated kindly in our business," she says on the phone from Los Angeles.
The popular show - which started in 2010, has been renewed for a fourth series in the United States, and picks up again here on Wednesday night midway through season two - follows three friends from LA whose lives change when their plane bound for Paris is forced to land in Cleveland.
It also stars 90-year-old screen veteran Betty White as the poison-tongued yet lovable Elka, Valerie Bertinelli (best known here as Barbara from 80s comedy One Day At A Time) as mild-mannered novelist Melanie, and Jane Leeves (Frasier) as Joy, a Hollywood eyebrow plucker to the stars.
When TimeOut talked to White last year she affectionately recalled how the four actresses "all fell in love with each other" when they were shooting the pilot episode.
"That is absolutely right," says Malick, whose best-known role was fashion editor Nina Van Horn in late 90s comedy Just Shoot Me!. "We all tell the same story because it actually really happened, which is not always the case. We sat around and read the pilot and we all kind of looked at each other and had that moment of, 'Uh-huh, I think we're on to something fabulous here'.
"And the fact they had written this show for women [actresses] over 50, let alone 60 and 90, it was just a great affirmation that there were people out there who wanted to watch people our age carrying on in this fashion."
And boy, do these four women get to carry on during the show. It's Elka who's the naughtiest of all. And more of her colourful life is revealed as the second series plays out.
"It's pretty wild. That woman has really gotten around for someone who lives in a little guest house in Cleveland," laughs Malick.
Meanwhile, Malick's character is outrageously over the top. And Victoria also has some of the best lines, like "What is this? Some sort of old-timey gay bar", when the girls walk into an Amish pub during the upcoming episode as they try to find Elka, who has done a runner after a brush with the law.
She likens Victoria to a friend of hers called Larry who she describes as "complicated. The lights are on but he's not entirely home."
"I always say I adore him but I can only have one Larry in my life and Victoria is kind of similar. They love her in spite of her flaws and her incredible self-obsession."
Malick really is a hoot and she talks with a quick-fire, funny ease about everything from the peculiarities of the show ("Every season ends with a cliffhanger of course which means you can't change your hair during the hiatus which is very frustrating but a whole other story") to her sense of humour ("I do like humour, and sometimes I like it when it's a little off-colour").
Then there's this on her late-blooming acting career which didn't really kick off until she was in her 30s. "I took some time off to live in Paris and model and travel the world when I was in my 20s. I think success is wasted on the young," she says wryly.
But now she reckons she has the "sweetest job" in Hollywood.
"Many people would love to have it. The writers work there fannies off, but we have lovely hours during the week and then we get to shoot it in front of an audience and it's like doing a play every week."
That's the most striking thing about Hot In Cleveland, the return to an old-school sitcom format complete with an in-studio audience and a constant barrage of clever one-liners.
"The night we get our audience just gooses you. You get this real spike in your energy when you hear that audience out there and we get to put on a show every Friday night. There is something about serving those laughs that is kind of addictive."
She also believes the show is a welcome return to a time when the normal, telly-watching public can relate to the characters on screen.
"I'm part of the baby boom which is the biggest segment of our population, and so few things are geared towards my age group. It's all skewed so much younger and I think there was just a hunger to see women who either remind you of your friend, your mother, or your sister, even though they might be more outrageous than you might be.
"But the constant is that these women show up for each other. As wacky and nutty as they are it's all for one and one for all. It's a wonderful homage to friendship."
Lowdown
Who: Wendie Malick, as former soap star Victoria Chase in Hot In Cleveland
Where & when: Wednesdays, TV2, 8pm
- TimeOut