The stars and director of the 3D remake of Total Recall discuss the futuristic action thriller with a past with Russell Baillie.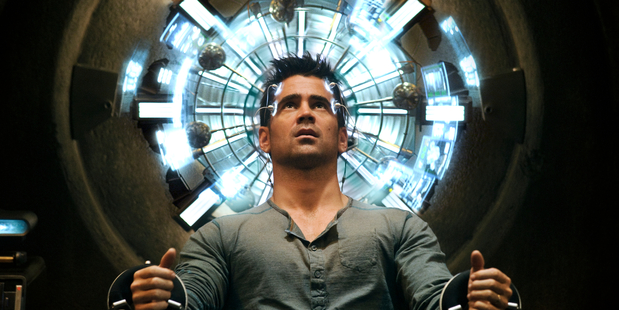 The stories of sci-fi writer Philip K. Dick first came to the big screen in 1982's Blade Runner.
But it hasn't been until the past decade, since Steven Spielberg directed Tom Cruise and Colin Farrell in 2002's Minority Report, that late author's works have become a regular screen staple.
Six Dick-based flicks - including last year's The Adjustment Bureau - have followed in its wake to various degrees of box office success.
The latest adaptation also stars Farrell. But Total Recall isn't just the latest Dick-derived futuristic mind-bender with gunfights, based on his story We Can Remember It For You Wholesale.
The US$135 million (NZ$165 million) 3D film is also a remake, having earlier been the second of the author's stories on the big screen back in 1990.
Then an in-his-prime Arnold Schwarzenegger was the lead in a film delivered in memorably outre style by Robocop and Basic Instinct director Paul Verhoeven.
Arnie's Doug Quaid headed from a quiet life on Earth with wife Sharon Stone to the troubled Martian colony which had figured in his dreams. He underwent a memory implant which made him think he was a spy - or was he one already?
This time, Farrell is Quaid and Mars is out of the picture. In 2084, Quaid and wife Lori (Kate Beckinsale) live in a vast British metropolis, one of the last inhabitable places on Earth after World War Three.
"The Colony" this time is Australia which is accessible by Quaid and his fellow blue collar commuters via giant high-speed lifts through the centre of the planet.
But suffering from dreams involving gun battles and a mystery woman, Quaid goes in search of his local branch of induced memory chain Total Rekall ...
The new film is directed by American Len Wiseman, who is also Beckinsale's husband and best known for helping start the great vampire revival with his stylish Underworld films, three of which starred his missus and the fourth of which was released earlier this year.
Both Farrell and Wiseman were teenagers when the Arnie-original came out and possibly too young to see it legally.
Talking to TimeOut via a web video conference, Farrell says he went back to have a look at it again after signing before filming.
"'It's still fun, man. It still stands up. Some of the effects are dated, but that's kind of irrelevant. It's such a fun film. So yeah, I'm a big fan of it."
So was Wiseman, and his version makes some amusing visual references (yes, it too features a cameo by a three-breasted prostitute) to the original.
"I wanted to bring stuff in that was familiar, things that I would want to see if I were seeing a retelling of this story. And so yeah, so I brought some of the familiar things in there to counterbalance how unfamiliar it's actually going to be."
But the director and star's own fanboy memories beg the question, why do a remake so soon, and suffer the inevitable comparisons with the earlier film?
"It's not that soon", says Wiseman. "It's not. Twenty years isn't that soon ... but it was the script, honestly. I was just compelled by the story and where it went." The film's new adaptation is co-written by Mark Bomback who was behind the John McClane comeback vehicle Live Free or Die Hard (2007) which Wiseman directed.
Says Farrell: "There's quite a decent element of audience out there who loved the original, and don't think it should be touched as a remake and hate the idea. And that's fine. I get it. I had trepidations first for that very reason, because I liked the original so much and I had already done a remake [last year's Fright Night].
"And the idea of doing a part that was made so iconic by Arnie. I had to just get over that and go, 'Okay, what is it about the script I like? When the time comes and people are critical and comparing it, will I be okay with that?' And the truth is, yes."
Interestingly, in the 90s there were originally plans to adapt Minority Report as a sequel to the first Total Recall. But it eventually became its own stand-alone Spielberg movie with Farrell in pursuit of Tom Cruise - "Tom did all the running really in Minority Report, and I do all the running here". But if the new Total Recall resembles any other movie from the genre, it's the rain-lashed neon-glow grime of Blade Runner.
"It wasn't necessarily something that I specifically drew from, no," says Wiseman, who describes any influence of the Ridley Scott classic as "just embedded in my subconscious".
This Total Recall might be a sci-fi story about a dystopian future where political power is wielded by the few - in this case Breaking Bad's Bryan Cranston as the evil Chancellor Vilos Cohaagen who is hunting Bill Nighy's rebel leader Matthias.
But it's also a gun-happy action flick boasting two action-babes, Beckinsale and Jessica Biel.
The film villain getting most of the screen time is Mrs Wiseman, putting her Underworld-honed physical training and both her English and American accents to good use.
But before she starts going ballistic in the film in ways her 1990 predecessor Sharon Stone never imagined, she also had to share a few intimate scenes with Farrell.
"Yeah, it was one of the more uncomfortable things I've had to do in the last 15 years of doing this racket, kiss Len's wife," says Farrell, turning to the director, "And you weren't even worried, and you weren't even kind enough to leave the room."
Smiles Wiseman: "No, I wasn't."
What: Total Recall starring Colin Farrell, Kate Beckinsale, Jessica Biel and directed by Len Wiseman
When: Opens at cinemas August 23
- TimeOut