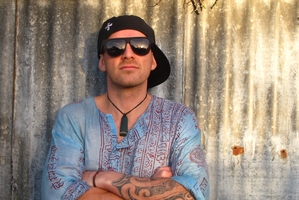 These days, it probably shouldn't be too surprising to sit down with a Pakeha fella who can speak fluent Maori. But it is. And it's impressive to hear Christchurch-born rapper, musician, and fluent te reo speaker Maitreya (real name Jamie Greenslade) pepper Maori words through his sentences.
"It's a house tune with tikanga Maori woven through out," he says of his mantra-like song Marie from his double album AIO, which comes with both Maori and English versions of the songs.
Then he's off on another spiel about tino rangatiratanga this, kotahitanga that.
And this is him telling a story about going home to Whakatane with Maori soul and jazz singer Whirimako Black who guests on AIO. "We went to Whakatane, to her whare, and hung out with her and her mum. Her mum is the kaikaranga for their whole hapu and she sat down with me and we talked all day - well, I listened - about what this karanga was going to be about."
By that he means what this ambitious album project is all about. "Which is aio [peace] and whakaaioio, which is the word that encompasses the whole thing, which means to manifest that peace by bringing the energies of Rangi and Papa [aka Ranginui and Papatuanuku from Maori mythology] through you."
It's deep stuff. And pretty impressive too, don't you think?
Yet despite this grand statement of intent about the album, Greenslade would be just as happy for you to sit down and listen to his songs - in Maori or English, it doesn't really matter - and enjoy them. And possibly even dance to them like you did to Poi E back in 1984 (or when it had a revival thanks to the film Boy a few years back).
Initially, AIO, which is co-produced, co-written and features Opshop main man Jason Kerrison who is in electronic funk groove fusion band the Babysitters Circus with Greenslade, was going to be a 10-track Maori album.
"That's what [government funding body] TMP [Te Mangai Paho] asked for," remembers Greenslade with a laugh.
Previously he released te reo EP, Te Puna Reka, in 2010 which contained Maori versions of songs from his debut album Close To Home. One of those songs was Sin City which won him the 2010 Maioha Award - the Silver Scroll for Maori songwriting.
But AIO is on a far grander scale than Te Puna Reka, with the finished product made up of two 11-track albums of diverse tracks that are rooted in hip-hop but encompass everything from dance music and atmospheric electronica to swinging pop and traditional Maori rhythms. It also comes with a coloured-coded translation booklet - kind of like a cool school resource book.
"I said to Jason, 'These songs are far too good to have 90 per cent of the population not know what they are about'.
"So hopefully it opens up the language to some people," he says, because he would dearly love to get te reo into the mainstream more.
The moonwalking hip-hop soul of A Beautiful Thing ("It's built for radio.") and even the lovely, wistful title track featuring Anika Moa on vocals, could make the crossover, but then there are more unique and unusual tracks like head nodding oonst of Ki Te Po and the brassy party groove of Kei Te Pai Ra ("For originality. There's nothing else like it.")
"It's a hip-hop record, but accessible in a dance kind of way. The whole goal is to get te reo Maori out in the commercial sector so everyday people are enjoying it and seeing it as a reality in their life."
How you do that successfully is another story.
"You've got to be hip to the times to be able to get te reo Maori across," he says, and believes Poi E was a classic example of that by using contemporary beats of the early 80s and merging it with traditional Maori music.
"But the way I've gone about it is by trying to be completely original, by doing it my way and what makes sense to me now and what is cool, you know, something that is dope, now. That's what I want to hear. I don't want to hear something that is rehashed and often it can happen that way because you worry about breaking tikanga [custom]."
But, as Greenslade puts it with a laugh, "because I'm pakeha, I'm breaking tikanga every day by doing this so let's go and break some more rules".
He was brought up in "Christchurch's strong Pakeha environment" and one day when he was 14 he got booted out of art class for fighting.
He found himself in a third form te reo class instead.
"It was one of those moments - and epiphany is a pretty huge word to give it - but it was definitely something that I'd been looking for in my life. Something that made sense."
So coupled with his passion for conscious hip-hop acts such as Public Enemy and KRS-One, his new found love of te reo was a major turning point in his life.
"I had already gone down the road of being a bit of a dick," he laughs, "but somehow I was being introduced to my place in the world."
In the running
Maitreya is a past winner of the Apra Silver Scroll Maioha Award - for contemporary Maori songwriting - in 2010 for Sin City, from his debut album Close To Home.
The nominees for this year's prize are Pounamu by Ahorangi, Matahiapo by Awa, and I Am a Child by Ria Hall.
The winner will be announced at a ceremony at the Auckland Town Hall on September 13. Click here to watch a live stream of the APRA Silver Scroll Awards and to add a reminder to your calendar.
Who: Maitreya (real name Jamie Greenslade), Christchurch-born rapper, musician, and fluent te reo speaker
What: Latest album, AIO, out August 24, is a bi-lingual double album with a Maori and English version.
Also listen to: Close To Home (2010)