Weezer is back with the 1994 debut which made them nerd-rock heroes, writes Scott Kara.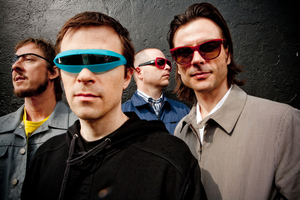 For a song with such a cute and funny title, Undone (The Sweater Song) sure escalates into a heavy pop rock epic. And the guy who wrote it, Rivers Cuomo of Weezer, has also said it was meant to be a sad song but most people think it's hilarious.
And it is, in a deliciously droll kind of way, with lines like: "If you want to destroy my sweater, pull this thread as I walk away ... watch me unravel, I'll soon be naked."
It was the first song released off Weezer's self-titled debut - better known as The Blue Album - from 1994. Along with follow-up single Buddy Holly (with the Happy Days-themed video directed, like many of Weezer's clips, by Spike Jonze) and the shout-along anthem Say It Ain't So, it made Weezer the kings of geek rock in a time when the grip of grunge had begun to wane.
It's been 20 years since Cuomo and his drummer mate Patrick Wilson formed Weezer through a shared love of pop, rock, heavy metal and melody. And though there is a year or two to wait until The Blue Album turns 20 they are heading to New Zealand for the first time in 16 years to play their debut in its entirety.
"It's been too long," says Wilson on the phone from Los Angeles ahead of the show at Vector Arena on January 11, during which they will also play a greatest hits and rarities set.
"It's kind of like the hit train. You know, the songs that everybody likes. But there is also a bunch of really cool songs from the early period that we throw in the set for the hardcore fans. They love it."
They first started playing The Blue Album as part of their Memories Tour in 2010 - and in the US they also played classic second album Pinkerton in its entirety too.
Wilson has no real explanation for why they decided to do the shows - just that a lot of bands were playing their classic albums at the time, including the Pixies doing Doolittle and in recent years he's seen Canadian power trio Rush play 1981's Moving Pictures and Steely Dan do Aja from 1977.
"I'm kind of dating myself saying this aren't I?," laughs the 43-year-old. "But it's also really fun for the fans because they get to hear a bunch of songs they normally wouldn't. There's also just something really cool about playing an album from start to finish, especially these days because I'm not sure people really love that format like they used to.
"And it's [The Blue Album] fun to play," he says.
Wilson was meant to do this interview with Cuomo but the fiercely shy, Harvard-educated frontman and songwriter pulled out.
TimeOut interviewed Cuomo in 2008 and on that occasion he lived up to his geeky image, turning up with a severe bowl cut and wearing walk shorts, cream walk socks and trainers. He also had a reputation for being difficult, but was far from it and simply came across as shy, slightly eccentric and not taking music anywhere near as seriously as he used to.
"It's just music. It's just vibration of air molecules," he offered back then.
Although there is no Cuomo today, Wilson has been closest to the frontman over the years. He co-wrote three songs with Cuomo on their debut - something that wouldn't happen again until 2008's Red Album.
Wilson has fond memories of Weezer's beginnings, even though, like most bands, it took a long time for them to break through.
"On the first tour we did before Undone got played on the radio, I remember playing to six or seven people at clubs, and at one show we played there were no paying customers.
"We had major [record] label interest, but no one really wanted to make a deal," he says in his laid-back lilt.
They finally got a chance to record the album when Geffen Records signed them. They were put up in a flash hotel in New York and headed into the famed Electric Lady studios with Ric Ocasek from the Cars who produced it.
"But what you don't realise is that there is a better than even chance that your record might not even come out," he laughs.
And The Blue Album nearly didn't, at least that's what it seemed like to Wilson. They finished recording it in September 1993 but it didn't appear until May 1994.
Wilson remembers how on the day the album was finally released his wife told him not to be too disheartened if it wasn't on sale in the shops. "I don't even think she thought it was going to be anything big. But we went to the mall and it was there and I was stoked. Not long after that they started playing Undone on the radio and it just snowballed from there."
It remains the band's highest selling album, even over follow-up Pinkerton and Weezer (The Green Album), which had the cute and cuddly hit Island in the Sun and chugger Hashpipe on it.
Wilson says one of the keys to Weezer's success was hooking up with director Spike Jonze who did the videos for Undone and Buddy Holly, the latter transplanting the band playing live on to the Happy Days set. "I was such a huge Happy Days fan as a kid that was a dream come true," says Wilson, "and for a lot of people, I think that's how they wound up knowing us."
What: Los Angeles nerd rock kings playing classic 1994 debut The Blue Album
Where and when: Vector Arena, January 11
Listen to: Weezer (The Blue Album) (1994); Pinkerton (1996); Weezer (The Green Album) (2001); Weezer (The Red Album) (2008); Raditude (2009)
- TimeOut