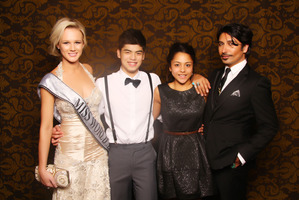 Colin Mathura-Jeffree and stars from The Almighty Johnsons made a surprise star turn at the Sacred Heart College school ball last week.
The TV stars joined around 500 teachers and students at the ball at the Pullman Hotel in central Auckland last Friday night.
TV reality judge Mathura-Jeffree, 40, said he had a raucous evening of good, clean fun; posing for pictures, dancing and trying to stay out of trouble with the headmaster.
"We had the wildest time," he said. "We seemed like The Breakfast Club crashing Glee and High School Musical. The meeting of totally separate generations. It was just hilarious.
"We jumped in all of the photos. I was doing all my modelling looks and all of the children were cracking up."
Former Miss World New Zealand Mianette Broekman also attended.
Mathura-Jeffree, an oldboy of Mt Albert Grammar who attended 13 school balls as a teenager, said polite yet persistent invitations from students on the organising committee persuaded him to attend.
Ben Barrington, who turned up with his Almighty Johnsons co-star Emmett Skilton, said: "It was a great night. Those students who were fans of The Almighty Johnsons recognised us, but some of them couldn't give a stuff. It was like a big dance party."
The theme of the ball - Stellar - was all about celebrity, and requests were sent out to rugby players and celebrity agents, but most had replied to say they were too busy.