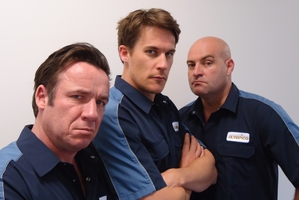 Pick of the week: 2012 Olympic Games
Starting from Saturday, and if you have Sky and are one of those sport-watching freaks who will be giving as much devotion to the table tennis and Greco-Roman wrestling as you will to the All Whites' chances in the football, then there are eight dedicated channels of Olympic action.
If that seems too daunting, then for normal people, and those tuning in purely for the four-yearly Olympic Games novelty value, it's as easy as putting your feet up after dinner and watching.
Because of the time difference, evening viewing is perfectly timed for the start of the day's events in London.
If you haven't got Sky, Prime is screening the games free to air. Although not as extensive as Sky, Prime will be like a lucky dip of Olympic action with a mix of live coverage, highlights, and previews screening around the clock, with a half-hour break for Prime News at 5.30pm.
And you can stay up as late as you like because everything from the whitewater canoe slalom to the composed intensity of the archery continues throughout the night.
Here's another idea. By waking up early you can get in a few quality hours before work. In the first week you can enjoy breakfast with everything from women's waterpolo (5.10am, Tuesday, SS7) and swimming (6.25am, Monday, SS5) to beach volleyball (6.55am, Monday, SS7) and weightlifting finals (Monday-Wednesday, 5.55am, SS8 and SS10).
This early-morning action will make especially good viewing when the track and field competition starts on Friday, August 3.
You might have to be late for work, because on Monday, August 6, from 5.45am, there are the finals of the men's 100m and 3000m steeplechase, and the women's 400m and triple jump.
Other highlights include the opening ceremony this Saturday from 7am; the women's marathon, which will provide a scenic tour of London starting at 10pm on Sunday, August 5; and Kiwi medal hope Valerie Adams will starts her shot put heats at 9.40pm on Monday, August 6 (the final is at 6.10am on Tuesday, SS9).
As well as the sport there are Olympic-themed shows on during the games.
The Absolutely Fabulous Olympics Special (Friday, 8.30pm, TV One) sees Eddy and Patsy doing their bit for the Olympic cause.
Eddy has rented her house to a Hollywood A-lister for the duration of the event - but she is still living there to get her celebrity fix. And even before the Olympic flame is lit the pair manage to run riot inside the Olympic stadium and crash a reception for some of Britain's finest athletes.
On the local front, new three-part series Olympico (Wednesday, 9pm, Comedy Central) sees Leigh Hart team up with Jeremy Wells and Jason Hoyte in London to "cover the games in a way that has never been seen before".
And Prime's irreverent sports show The Crowd Goes Wild screens at 7.30pm seven days a week during the Olympics with co-host Andrew Mulligan and roving reporter James McOnie in London.
Animal pick: The Zoo
When you feel like you've had enough of all the human drama, it can be a pleasure to watch some animal antics instead. It can be dramatic, exciting, and sad, but at least it's mostly cute.
In the new season of this local series, as well as catching up with the animals and their day-to-day routines at Auckland Zoo, the keepers go into the field, assisting with endangered birds.
The cameras are there as tigers rip into a fresh deer hide pinata, Burma the elephant swims in a fresh lagoon, and kunekune pigs enter the lions' den - literally. Young giraffe Jelani heads for Australia on his big OE and his mum, Rukiya, gives birth to 180cm-long leggy sister Nakuru.
Other new kids on the block include a rescued New Zealand fur seal pup and squirrel monkeys.
When: Sunday, 7pm
Where: TV One
What: More monkey business
Drama Pick: Forbrydelsen
After running two seasons of its American remake The Killing, SoHo gives a chance to those who haven't already grabbed it on DVD to see the original Danish murder mystery.
Since it first screened in its homeland in 2007 it has become one of the biggest non-English television successes . Those who have seen the Seattle-set adaptation will find much that is familiar - from the music to the trademark jersey of Sofira Grabol's detective Sarah Lund (who became "Sarah Linden" in The Killing).
With this season of Forbrydelsen consisting of 20 one-hour episodes, the pace and detail unfurl at a more measured pace and give more breathing space to the characters who are drawn into the investigation of the murder of teenager Nanna Larsen.
When: Thursday, 9.30pm
Where: SoHo
What: The Danish original
Doco pick: Inside Tattooing
A potent combination of time and a desire for self-expression goes a long way to explain why tattoos are such a prevalent aspect of prison life, but there is a lot more to this story than recklessness and non-compliance.
Inside Tattooing is an uncompromising documentary exploring the art of prison tattooing in New Zealand, and provides a rare insight into the intricate nature of masculinity and mana. Through a series of candid discussions with inked-up former prisoners, gang members and wardens, the programme investigates the stories behind these striking and often confrontational symbols.
It aims to reveal a different side of these men, many of whom have been dealing with the repercussions of violence since early childhood.
When: Thursday, 9.30pm
Where: TV3
What: Identity and art collide
Lifestyle pick: Location Location Location
With the housing market in a state that favours sellers, Location Location Location is back for a new series, helping buyers get a handle on what opportunities are out there - and taking a look at the eternal search for the perfect home.
Hosts Phil Spencer and Kirstie Allsopp have their work cut out with more unusual housing requests than ever. Buyers are battling one of the most difficult housing markets in a generation, and those with specific expectations or requirements can spend a long time hunting for appropriate properties.
The hosts also find time to catch up with past buyers and check if their property dreams came true. On Saturday Kirstie and Phil visit two couples who were looking for starter homes.
When: Saturday, 8.30pm
Where: TV One
What: Taking on the real estate market
-TimeOut