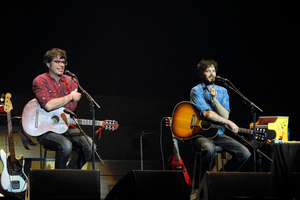 Flight of the Conchords stars Jemaine Clement and Bret McKenzie helped an old school mate propose to his girlfriend at Vector Arena on Saturday night.
It was a sweet touch to the comedy duo's homecoming tour which saw them play to more than 40,000 Kiwis with extra shows because of demand.
The Conchords are heading across the Tasman this week to sold-out Sydney shows.
Clement and McKenzie unfurled a banner saying "Sam will you marry me - Zane" midway through the show. The audience were treated to the backstory, Zane and Clement having a friendship from intermediate school days in Masterton. The pair were buddies, despite the social challenge of Zane being a gun shot-putter and Clement not being so great.
Sam said yes, and Zane gave his mate the thumbs up.
The pair have been busy this year. Clement stars in Men in Black III as an evil alien, while McKenzie won an Oscar for his Man or Muppet song in The Muppets film and was then made an Officer of the New Zealand Order of Merit in the Queen's Birthday honours.
- Staff reporter