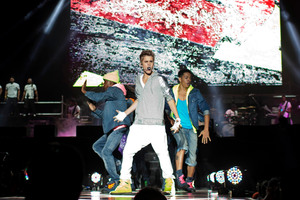 Justin Bieber's record company is working with police and Auckland Council to try to avoid the mayhem the teen music star has caused in other cities around the world, when he makes a fleeting promotional visit here in July.
Bieber fever has been rife as the singer, best known for his song Baby, has been travelling the world promoting latest album Believe with appearances and free concerts.
In Oslo 25,000 fans turned up outside his hotel and the city almost declared a state of emergency to cope with the carnage the Bieber frenzy caused.
In Mexico City around 200,000 people turned up for a free concert in the centre of the capital.
Extra measures will be taken to keep fans safe when the star flies into Auckland for a three day visit on July 18.
Justin Warren, promotions director at Universal Music, says they don't normally have to work with council and police in these sorts of circumstances but Bieber is an exception.
"With him you have to take some extra precautions. It's a problem unique to Bieber, and while it's a pretty good problem to have you can't control how many kids are going to turn up so it's just more about keeping them safe."
The precautions include everything from putting crowd control measures in place through to traffic management strategies.
However, Warren says at this stage planning is in its early stage because Bieber's appearances and where he will visit when he is here are yet to be confirmed.
Bieber brought on widespread heart palpitations and frenzied screams when he was last here in 2010. But given the reaction from his fans around the world his popularity is even greater this time round.
Though Bieber is concious of the safety of his fans he says he loves the screaming. He told TimeOut earlier this month that those screams are "the reason I am in this position".
"The intensity of my fans kind of dictates my career and when I show up to different places and have all these fans show up, those are the stories that I am always going to remember, and I think that's just really incredible."
Believe is No. 1 on the New Zealand album charts this week.
-TimeOut