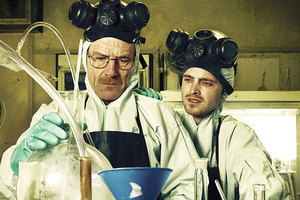 Bryan Cranston is holding out hope for a movie version of his cult TV series Breaking Bad after the show's creator dropped hints he has more stories to tell about the characters.
Vince Gilligan is bringing the drug thriller series to an end with two eight-episode seasons - the first of which begins in the US in July.
In New Zealand, Breaking Bad screens on channel Four.
However, Cranston, who plays a former chemistry teacher turned methamphetamine dealer, is hoping there will be more Breaking Bad adventures on the big screen after the series ends.
"Vince feels that now we have too much story," Cranston told the Los Angeles Times.
"We could actually go beyond those 16 episodes. It's not far-fetched. I wouldn't mind visiting that possibility.
"This is coming from a guy who doesn't know anything of how the show's going to end.
If it doesn't end up in a total apocalypse, who knows? Maybe we could revisit (character) Walter White a year down the road and see where his life has gone.
"If he's still alive, that is.''
Watch a teaser trailer for season five of Breaking Bad:
- AAP