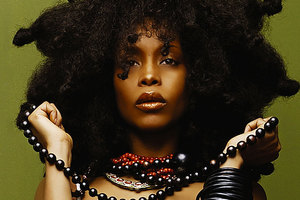 A controversial new video from alt-rock act the Flaming Lips has caused a Twitter storm between the band's front man and singer Erykah Badu, whose sister appears nude in the explicit clip.
Nayrok Badu, the sister of singer Erykah, appears in the video for the band's new song The First Time Ever I Saw Your Face naked in a bathtub, smeared in fake blood and glitter, Fasterlouder.com.au reported.
The clip was posted on the website of music tastemakers Pitchfork.com but was quickly removed after Erykah Badu aimed a nasty Twitter message at Flaming Lips singer Wayne Coyne, calling the video "tasteless".
MTV.com reported that Erykah - who sings on the song and asked her sister to appear in the video - claimed the clip was released early, uncut and unedited and without the permission of her or Nayrok.
"I never would have approved that tasteless, meaningless, shock motivated video," she wrote.
"As a human I am disgusted with what appears to be desperation and poor execution.
"And disregard for others ... As a woman I feel violated and underestimated."
In a war of words with Erykah on Twitter, Coyne admitted the video had been released early by Pitchfork and without permission.
But he hit back at Erykah in an interview with BBC Radio's 6Music, calling the clip "wonderful".
"She is a controversial entity in the world," Coyne said. "So everything that she does has an element of her doing art.
"This video to me is not controversial, it's wonderful, and I think Erykah knew she could play into it if we made a video that could be perceived as derogatory," he said.
"Otherwise I don't think she'd be interested in it. I think (she) is still in the realm of a creation of controversy."
Badu sparked an outcry when she wandered the streets of Dallas while taking her clothes off for the video of her 2010 single Window Seat. She was charged with disorderly conduct and fined US$500 over the incident.
Read Erykah's full Twitter message here.
- Herald online