Alien director Ridley Scott talks to Des Sampson about going back to the future in Prometheus, a movie which both predates and updates his sci-fi classic.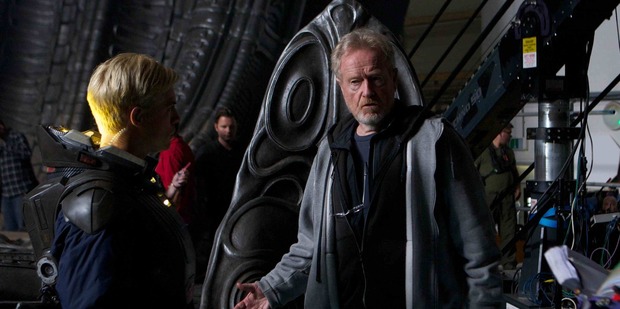 When Ridley Scott unleashed Alien, in 1979, he created a monster.
Not just the fierce beast of the title but a film which helped redefine big screen science fiction with its tagline: "In space no one can hear you scream."
The success of Alien spawned a series of sequels - including the expansive Aliens, directed by James Cameron - before the franchise started a downward slide with Alien3 and Alien Resurrection then headed into B-grade territory with Alien vs Predator spin-offs.
By which time Scott had long since abandoned any interest in the Alien franchise and in sci-fi films, following his equally groundbreaking, sci-fi escapade, Blade Runner, in 1982.
From there Scott genre-hopped, with mixed results - having cast Sigourney Weaver as Alien's sole survivor, Ellen Ripley, he delivered two more memorable screen heroines in Thelma & Louise.
Having redefined sci-fi, he did the same for the swords and sandals epic with Gladiator.
But now, Scott has come back to the future with Prometheus, a prequel of sorts to Alien.
"Although I really enjoyed doing Alien and Blade Runner, the reason I never made another sci-fi film was, quite frankly, I never came across anything that had enough truth, originality or strength to it - until now, with Prometheus," explains Scott.
"This film had all three of those qualities, which is why I was interested in revisiting the Alien legacy.
"Also there was a sense of unfinished business because in the three films that followed Alien - as opposed to the Alien vs. Predator ones, which were a completely different thing - nobody had addressed the obvious questions, which I found very odd,"
"So, I thought it was worth re-examining it and following through on those obvious questions."
The "obvious questions" Scott posits in Prometheus are: Where do we come from, who created us and what would happen if we met our makers? In attempting to unearth some answers, Scott boldly goes where no Alien film has gone before - an epic search for the origins of life.
"I think it's entirely likely that we've been visited before - and ridiculous to believe that we haven't," says Scott. "But it's hard for people to conceive of the idea that there is a civilisation out there, somewhere, which is maybe a billion years ahead of us, or that we're just chimpanzees in relation to how advanced they are.
"So, the idea behind Prometheus is that those beings landed here, on Earth, a billion years ago and left us a legacy," he adds. "They also returned, on occasion, to visit us, to see how we were doing and how far we'd evolved."
It's these visitations which set the extraordinary, opening sequence in Prometheus, when archaeologists Dr Elizabeth Shaw, played by Noomi Rapace, and her colleague Dr Charlie Holloway (Logan Marshall-Green), discover a cave painting on the Isle of Skye which features a cluster of stars in a far-flung galaxy.
It's an image that mirrors previously discovered Mayan, Egyptian, Byzantine and Aztec drawings, which suggests this constellation might be where humans came from, or life began.
Consequently, their discovery provides the launch-pad for Scott's extraterrestrial adventures, after Shaw and Holloway convince multi-billionaire Peter Weyland, the founder of Weyland Corp, to fund their two-year, trillion dollar journey to the distant galaxy, on the spaceship Prometheus.
Accompanying them on their life-searching quest are a team of specialists and scientists, Weyland Corp's Mission Director Meredith Vickers, chillingly portrayed by Charlize Theron, know-it-all android, David (Michael Fassbender) and gallant hero Captain Janek, played by Idris Elba.
To help weave his fantastical tale - and facilitate the grand, sweeping vistas dotted throughout Prometheus - Scott decided to film in 3D for the very first time, and also used digital cameras rather than conventional ones.
"It was an obvious thing to do and I thought I may as well join the club," he says laughing dryly. '
However, Scott refuses to fully embrace every aspect of modern film technology, with far less CGI used in Prometheus than most contemporary sci-fi films, like The Avengers or Avatar.
Instead, he created his stunning, surreal shots by building enormous, three-dimensional sets at Pinewood studios and filming live, with multiple cameras, or shooting on location in Iceland and Scotland, resulting in some awe-inspiring sequences and panoramic shots.
"I'm a cameraman primarily, so right back to my first film The Duellist, I've always tried to tell stories visually. It's why my films have sometimes been criticised for being too visual, too misty, too beautiful," he says, in response.
"But I refuse to change the way I make films, because we're dealing in a visual medium and I think our story-telling should be entirely visual.
"In some ways, I think I have an advantage over other directors because I have an eye for a scene," says Scott. "It means I can choose a location or a setting and immediately see how to film it. By being able to do that and also being able to draw - from my time at art school - I can very quickly visualise how a script is going to evolve into a film.
"It was no different for Prometheus - I could see the scenes in my head and knew how I wanted to film them, so didn't need to use a lot of CGI. Also, I was quoted the price of Avatar and quite frankly - sorry Jim - I was stunned, so I wasn't going to go down that route," he says, laughing.
However, Scott's "substance over style" and "bold scenes over big bangs" approach meant he didn't have to resort to on-screen gimmicks for Prometheus. But that doesn't mean there aren't any spectacular stunts, explosive scenes or unexpected plot twists.
In fact, nothing is as it first seems - as the crew of Prometheus soon discover when their dreams of finding these godlike super-beings, who they dub The Engineers, becomes a nightmarish reality, and they realise they aren't as friendly, or benign as they'd envisaged they'd be.
"What I find interesting about the whole notion of God and creation is that whenever people talk of going to Paradise, wherever that might be, they always think about it as a wonderful world or a wonderful place," says Scott.
"But what if it's not? What if it's the most savage, horrible place with beings that are so superior in intellect we're just seen as specimens on a petri dish? That's the sort of questions I ask in Prometheus."
It's a question only partly answered by Prometheus too, although the closing sequence suggests there are still more answers - and more questions - to come.
MEET THE CREW OF PROMETHEUS:
Logan Marshall-Green as Dr Charlie Holloway
Role: Archeologist and love interest for Rapace.
Reminds us of: Executive Officer Kane, played by John Hurt, the first ever Alien victim.
What they say: "When I was asked to audition for Holloway by Avy Kaufmann, the casting director, she said 'you can't read the script, but I can tell you it's a science fiction movie and Ridley Scott's directing it'. That was enough for me because I've always been a huge fan of his and loved Blade Runner. When I was offered the part I asked to read the script and I was like; 'Holy crap, this is brilliant,' because my character's not got just one or two, but three dimensions - and he's a lead! I was stunned and so happy to be a part of the whole Alien legacy."
Michael Fassbender as David
Role: An android robot responsible for monitoring the crew during hyper-sleep, among his other duties.
Reminds us of: Science Officer Ash, a clandestine android played by Ian Holm, in Alien and Lance Henriksen as Bishop, the android executive officer in Aliens.
What they say: "David is quite childlike in his approach to the world. He's very inquisitive and wants to be acknowledged and praised for his brilliance. He's frustrated by the humans and is jealous of them because even though he is stronger and his mind works quicker than anybody else's, he's still treated like he's a nobody. That makes him angry, which is when things get interesting."
Also see: The viral video of David the Android, released as part of the movie's marketing, which does not feature in the film.
Charlize Theron as Meredith Vickers
Role: Mission Director and Weyland Corp's onboard representative.
Reminds us of: The scheming Weyland-Yutani employee, Carter Burke, in Aliens.
What they say: "When I first read my part, there was a quote that immediately sprang to mind, which is: 'the only difference between us is some of us were loved and some of us weren't loved'. That, to me, sums up Meredith Vickers. She's such a broken human being because she's a disappointment to her father who was looking for a son and heir, not a daughter. Consequently, she's spent her entire life trying to gain his love and acceptance but doesn't know how to go about it in a nice, genteel way. Instead she's become very cold, distant and passive-aggressive."
Idris Elba as Captain Janek
Role: Prometheus pilot.
Reminds us of: Captain Dallas, played by Tom Skerritt, in Alien.
What they say: "I worked with Ridley Scott on American Gangster and I remember him telling me; 'I know it's only a very small part, in a big film, but I'm very loyal'. Sure enough, two years later, I was called to do Prometheus. My character is a longshoreman, with a military background so being the captain is his life and the crew is his responsibility. He's a pragmatist - which I think you need, in a film like this, to say: 'wait, why are we doing this?"'
Guy Pearce as Peter Weyland
Role: Multibillionaire founder and CEO of Weyland Corp, who is funding the Prometheus exploration. He's seen as an old man in the film but a young man in one of the viral videos released to promote the film.
Reminds us of: Dr Eldon Tyrell of the Tyrell corporation in Blade Runner.
What they say: Transforming myself into Peter Weyland, this wizened old man, was a five-hour makeup process ... Playing him did make me think about my own mortality because I'd look in the mirror and think; 'God, is this how I'm going to look when I'm old?'
Noomi Rapace as Dr Elizabeth Shaw
Role: Archeologist who unearths clue to origins of human life.
Reminds us of: Ellen Ripley, played by Sigourney Weaver, for her feisty heroics, complete with figure-hugging, gauze bikini.
What they say: "I saw Alien when I was young, and I was blown away by what Sigourney Weaver did in that movie. She was such a tough, cool, sexy woman - doing all these incredible things to survive, without any vanity. That's how I wanted to play the role. I didn't want to do it just to look good, be liked or to satisfy people. I needed to find the truth about my character. I didn't even worry about running around, half-naked, in front of everyone because I was living and breathing the character, at every step, in every moment."
Also see: Viral marketing video of Dr Elizabeth Shaw, released to YouTube here.
-TimeOut