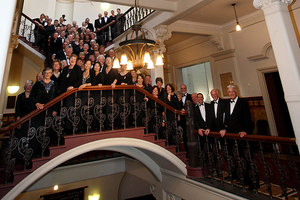 The Masses of Anton Bruckner are extraordinary creations.
They have a hugeness of gesture, orchestration and time-scale, along with moments of naive beauty in keeping, perhaps, with a man so devout that he kept tabulated records of his daily prayers.
It was brave of Uwe Grodd and Auckland Choral to tackle Bruckner's Great F minor Mass, buoyed on perhaps by the availability of the New Zealand Symphony Orchestra.
Indeed, if one had only to comment on the orchestral component, there would be very little to ruffle critical sensibilites.
However, just 12 bars into the opening Kyrie, there was the first omen of a rough journey ahead when an over-enthusiastic choir pre-empted the orchestra by a fraction of a beat.
After some steady, sonorous singing, which Auckland Choral does well, an extremely stressed top A flat from the sopranos was yet another premonition that this was not going be a comfortable 70 minutes. And when soprano soloist, Amanda Winfield, announced herself with a high-powered approximation of a top G, my heart sank.
Before this movement ended, there was a third unsettling preview of what lay before us, as the choir, a cappella, shakily secured a chord after one of Bruckner's characteristically treacherous transitions.
Of the four soloists, the freshest voice by far was that of alto Sarah Court, who was not always successful in projecting into the hall.
Tenor Ravil Atlas and bass Grant Dickson added their rather worn voices for some mercifully short vocal quartet sections.
All was not Bruckner. The concert had opened with three organ solos from John Wells playing the instrument that he knows better than anyone else in the organ community.
Bach's G minor Fantasia and Fugue was brisk and welcoming, as Wells showed his knack for bringing out the conversation in a fugue.
Two contemporary offerings, beautifully rendered, were not so distinguished - a soft-hued, cod-Baroque Aria by Andrew Carter and a flashy toccata from the French-Lebanese organist and composer Naji Hakim.
What: Auckland Choral
Where: Auckland Town Hall
When: Sunday