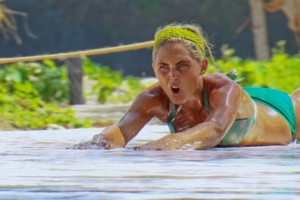 Survivor contestant Kat Odersson says she is the victim of the biggest blindside this season and claims her victory was "stolen" from her.
The 22-year-old time share representative was eliminated from Survivor: One World after losing an immunity challenge to Kim Spradlin, who spearheaded her demise.
Six contestants are left in the running for the show's US$1 million prize.
Kat, an Orlando resident, cast a series of dirty looks towards her tribe mates after her elimination. She told nzherald.co.nz she had no idea she would be heading home.
"I didn't know it was happening at all," she said. "I think I was the most blindsided out of every single person that played in our season. I had no idea what was happening.
"I want to set the record clear: It was not funny."
Despite thinking she had a clear path to the show's finals, Kat said she held no grudges against Kim and her tribe mates.
"I don't hold grudges - I'm a sweetie. Don't get me wrong, I was hurt. I felt like I was taking care of these women and protecting (them).
"They stole that from me. I left my heart on that God-damned challenge."
The quirky contestant left her mark on the show with a series of random incidents and outbursts. At one tribal council she admitted she didn't know what an appendix was, and there is footage on YouTube of her farting on a tribe mate.
But she wanted the world to know she wasn't a "dumb blonde".
"People are either going to love me, or not care for me. I'm not a dumb blonde, I'm very quirky, I'm very interesting.
"When you're starving for 33 days you get a little loopy. I'd rather have people laughing at me than not laughing at all."
She said she enjoyed watching her performance back on TV.
"If I was watching it from an outsider's point of you, I would have been like, 'Oh my god, this girl is hilarious'.
"There were a lot of things I did that weren't even aired that were just insane."
Kat believed she'd played a near-perfect game of Survivor.
"I played a great game, I made a great alliance, I did amazing in the challenges, I had a great sense of humour, I had a great attitude about everything.
"I was really funny and cute and sweet and very lovable. I can't say that I played a bad game - but I made bad decisions at the end."
* Survivor: One World screens on Sunday nights on Four. nzherald.co.nz will interview every contestant as they are eliminated.