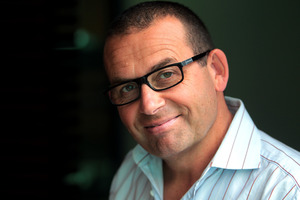 His big splash into Australian breakfast television has yet to achieve the ratings the network would like, but Channel Ten isn't giving up on him.
Industry insiders across the ditch tell the Diary our high-priced TV export, Paul Henry, is being considered for Ten's primetime entertainment show, Can of Worms, to replace Ian "Dicko" Dickson, formerly of Australian Idol. The role would coincide with Henry's weekday Breakfast duties.
Henry, who continues to host the brilliant comedy panel Would I Lie To You? on TV3, was hailed as the hero of Ten's morning news show when it began nearly three months ago.
However, ratings of around 30,000 daily viewers have a long way to go to gain traction on entrenched competitors, Sunrise and Today, with reportedly more than 10 times that.
Ten news boss Anthony Flannery, formerly of TVNZ, told the Diary it would take time.
"I've always said it would take up to six months to settle Breakfast into its format, and much longer than that to become #1 in such a congested, competitive and fragmented market. We are fully committed to the programme, and Paul - as always - is doing a great job."
Media experts suggest hosting Can of Worms - a talk show about everyday topics using trending technology and an interactive studio audience - would be a cross-promotion opportunity for the network to profile Henry on a primetime show and steer viewers to Breakfast.
It would be a chance, too, to show Henry's witty improvisational side in a family-viewing environment, and outside the news room.
The commitment of Henry to Channel Ten is a big one, both for the Lachlan Murdoch-backed network, and for the Kiwi broadcaster. Introducing him to the broader Ten audience makes competitive sense.
SYDNEY-SIDER BAX ON BIKES
Since moving to Sydney, Thames-born former model Kylie Bax has swapped the New York cab for a new mode of transport.
Last week, the mother of three got around Fashion Week with her hubby on a Harley-Davidson Road King. "It's our preferred mode of travel," she said.
"There's a freedom or a sense of peace that comes with feeling the wind through your hair and seeing the streets go by on such a magnificent motorcycle," she blogged.
Bax, who bought a 40ha Kentucky farm she dubbed the B ranch, is property hunting in NSW's Southern Highlands - about 110km from Sydney.
She told an Aussie newspaper she moved to Sydney, after 17 years abroad, with Greek husband Spiros Poros to raise their children.
"It's the best lifestyle for bringing up kids."
Better than being close to your Matamata-based family and free babysitters on hand?
CELEBRITY SHOPPING
A home-shopping network, originally planned for TVNZ7, will launch on Sky channel 18 in October and be live-streamed on the web. Ogilvy managing director Greg Partington is behind the channel, inventively named The Shopping Channel.
Celebrity Candy Lane, who was rumoured last year to be fronting it, said she is still in talks about a role. Bill Ralston, who is involved with the project, said a few celebrities are in discussions, but no contracts have yet been signed. Ex-league star Monty Betham is being linked too. Watch this space.
BIG BOYS DON'T CRY
John Banks' ministerial career may lie on the brink while a police investigation is under way, but Prime Minister John Key was unperturbed at the musical Jersey Boys on Friday night, showing an adept ability at jazz hands.
MORE BUCK FOR TV DOLLAR
Sunday morning's Three60, TV3's new offering, showcased international stories making the headlines. Host Mike McRoberts, sponsored by an Auckland menswear label, wore blue jeans and a silk pocket square, in an appealing dude-meets-dandy manner.
The studio's set is attractive and modern, unlike garish Q+A on rival TV1 which looks like it's been paint-balled by a primary colour enthusiast; or The Nation, with its bold red-and-black branding, which looks more like an advertisement for the Mana Party.
Three60 follows The Nation's media panel which consists of two veteran broadcasting experts with a combined age of more than 130 years, according to Wikipedia. Insiders on the show affectionately dub them Statler and Waldorf from The Muppets, without the plush balcony.
By contrast, Three60 aims to attract the upwardly mobile crowd looking for a global news weekend round-up to go with their latte. The 30-minute show is sponsored by Massey University in a deal some sources say could be worth around $50,000.
Professor Malcolm Wright, Massey University's head of journalism, appeared on Three60 to discuss the Rupert Murdoch saga. The sponsor became the commentator. In doing so, the tertiary institution got more buck for their endorsement dollar than if they'd flashed a logo on screen at the commencement of the show - which they did. Is this part of the deal? When Campbell Live needs an automotive expert for comment should they go to principal sponsor Mazda?
We should expect more mouth from Massey on the programme ahead. The partnership with Three60 allows the university to showcase their own experts from various fields. "We have a lot of people with huge knowledge and skills worth sharing, and this is an ideal platform, said Assistant Vice-Chancellor External Relations Cas Carter. Let's hope it's just a platform - not an advertorial.
RUSSIAN ORTHODOX
Billionaire investment banker Stephen Jennings, formerly of Taranaki, is targeting Nigeria's middle class and setting up a consumer banking business by the end of the year, the Financial Times said last week.
The Moscow-based Kiwi, whose ex-wife is dating Nigella Lawson's octogenarian dad, believes the Nigerian market can be "more profitable" than his Russian consumer finance business. He'll be talking about his sub-Saharan business at next month's International Economic Forum in St Petersburg.