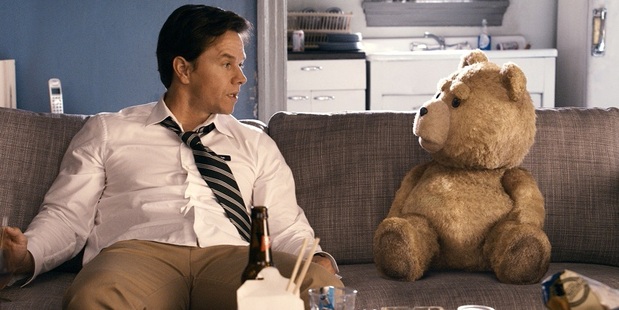 When I watched David O Russell's 2004 existentialist comedy I Heart Huckabees, I remember being struck by just how funny Mark Wahlberg was in it.
As an ennui-plagued fireman, Walhberg displayed a hitherto untapped talent for deadpan comedic delivery.
In the years since, my views on Wahlberg's ability to be funny have evolved. His history as a juvenile delinquent-turned-R'n'B star-turned movie actor have always lent a unique dimension to his film performances, especially when he's doing something light-hearted.
This background heavily informed his breakout role in Boogie Nights, and continues to lend authenticity whenever he plays a blue collar character - such as in The Fighter and more recently, Contraband.
But every time he's tried to be funny since I Heart Huckabees, it has fallen flat. 2010's action comedy The Other Guys, for which he teamed up with Will Ferrell, has a lot of fans and isn't without plenty of decent jokes, but I found Wahlberg painful in it.
It might have something to do with his softly-spoken acting style, but his comic timing and presence left me severely wanting.
That same year's Date Night was even worse - Wahlberg is really only there for an extended cameo, but the filmmakers seem to have assumed that merely having him take his shirt off makes any scene funnier. I found it grating.
This has been playing on my mind recently due to the trailer for Wahlberg's upcoming comedy Ted doing the rounds.
In the high concept comedy from Family Guy creator Seth McFarlane, Wahlberg plays a man who's teddy bear came to life when he was a boy, and has stuck around ever since as a hedonistic pal.
It's an undeniably interesting premise, and McFarlane looks to be having a lot of fun with it, but boy I wish it wasn't Wahlberg starring in the film.
Everything in that trailer reminds of his worst offences in The Other Guys - he comes across as petulant and aggressive, in a non-endearing way.
As mentioned above, Wahlberg can really sing in the right role in the right film. There's a grand tradition in Hollywood of serious actors going comedic and it working (Robert De Niro in Midnight Run, Al Pacino in The Devil's Advocate) but in my mind, it simply isn't working for Wahlberg.
Maybe his upcoming flick Pain and Gain will fare better. It is Wahlberg's exacting lack of self-awareness that I find trips him up, so playing a clueless dolt might be just the thing.
I get the feeling I'm in the minority on this one - but do you think Mark Wahlberg has comedic chops? Which other serious actors' attempts at humour have you enjoyed or hated? Should Daniel Day Lewis try a comedy? Comment below!