On Saturday VOLUME and Barkers are celebrating Record Store Day and Barker's 40th birthday by releasing a free Lawrence Arabia single on the most vibrant and living format there is – seven-inch vinyl. And it's a format that is dear to James Milne's heart.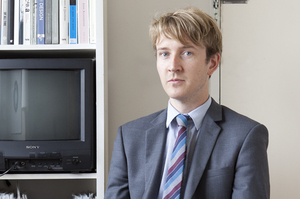 When I bought Lawrence Arabia's first album in 2006, I bought it at Real Groovy Dunedin, then one of four Real Groovy shops around the country. I grew up calling such places "CD stores", and I truly believed vinyl was a dead relic of another time. Now VOLUME is making sure the kids know better these days.
"This seven-inch we're releasing is about having the same conversation you used to have at the record store counter but you can have on the internet now," says James Milne.
The water feature that is Auckland is in full force today and inside a Kingsland café I'm slowly drying and talking with Milne about music in Auckland before the internet had changed things as much as it would come to.
You might think that having watched three Real Groovy branches disappear in the time it took to make as many albums would affect the way Milne thinks about his career.
But, as he explains, his expectations were lean to begin with.
"When I started making my own music, I think I already didn't see myself as someone who would sign a record deal and have all of the advantages of record company money. I think I'd always seen some kind of self-driven model as my thing anyway, and that has become more the norm than the exception."
There may have been more record stores, but Milne moved here from Christchurch in a stark time for guitar pop fans. In 2002, "chill out" music ruled the cafes and going out dancing meant going to a club. Until The Datsuns went to London and that Strokes album started getting listened to, guitar music could only be heard in the margins.
"There was good music in that rock'n'roll scene, like The Datsuns and The D4, and more fringe-y bands like The Brunettes, but they all had this thing like, 'We're retrogressive freaks in a futuristic society'. Of course it didn't take long for that to totally change."
The society Milne is preparing his third album for is one where Bon Iver has replaced St Germain in cafes, and music for retrogressive freaks can slot comfortably into corporate culture.
"There are so many acts now like the Tokey Tones - that sort of music, strong glockenspiel pervaded stuff, is the stuff that's on bank ads now."
While first wave Lil' Chief pop albums paid homage to the '60s in sound, they also pioneered the new processes of home computer recording. On his forthcoming album, Milne has looked to the lessons of the pre-digital era for the way he records. Exhausted by the infinite options of self-recording on Pro Tools, he chose to record the bones of the album live with friends Connan Hosford and Elroy Finn, leaving in the imperfections of live performance.
"It's not a romantic avowal of the past; I just decided to set myself up some restrictions in the way I produced it. There are so many records that I love the feel of, like [Neil Young's] On the Beach - they're with great players and they're imperfect, but they're a moment."
The first sessions were recorded in Surrey in the UK at the end of a long stint of touring in the US and Europe in 2010. Since late 2010 Milne has been based back in Auckland, recording overdubs for the record and getting into a rhythm of creative life which allows him the luxury of "distractions". In just year and a half those have included acting and composing for the pilot of Uncle Bertie's Botanarium, composing soundtracks for TV and film, and releasing the Fabulous/Arabia album Unlimited Buffet with Mike Fabulous.
"In a big city, it's less likely you're going to have time to form a side project or be in three or four bands at the same time, because if one of your bands does well, then you're just touring six months of the year. When I've been overseas, it's just Lawrence Arabia - and I get sick of thinking about myself."
Despite this, Milne is looking forward to going on another extended overseas jaunt overseas later this year, and seems comfortable that his career may always work in periods of advance and retreat - neither living in New Zealand fulltime nor moving to the markets he tours in.
"I'll always understand New Zealand far better than anywhere else and I do think you should reply deeply to your own culture. I think if you [permanently move overseas] you can almost become odious to your own people. And I want to be a patriot."
The album was written on tour in a process Milne says was more methodical than his early output, partly because of the constraints of touring and partly due to the tougher inner critic that develops with age. Touring and ageing form the themes for side A of the seven-inch, Lick Your Wounds. It's a song that Milne says could be about someone else, or himself imagined somewhere he doesn't want to be in 10 years.
I had imagined Lawrence Arabia as a mask that allowed Milne to speak in characters - whether the drunk teenager in Look Like a Fool or the competitive men in Fine Old Friends. But Milne says while he is not a confessional writer, his stories are usually rooted in personal truths.
"Both of those songs are actually quite truthful in a way. I feel more awkward about writing character songs because it feels disingenuous. But I mean I did (as he sings in Look Like a Fool) sleep by a fountain covered in my sick. That's Christchurch - glory days."
For a chance to win up a copy of Lawrence Arabia's Lick Your Wounds/Perfect Specimens seven-inch celebrating Record Store Day and Barkers' 40th birthday, make a purchase at any New Zealand record store this Saturday, mail your receipt to VOLUME PO Box 32 Auckland, and one of these very limited edition seven-inches could be yours. Viva la vinyl!