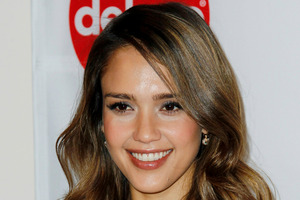 Jessica Alba is planning to spend her 31st birthday at the White House.
The Spy Kids star - who has daughters Honor, three, and Haven, seven months, with husband Cash Warren - is heading to Washington for the annual Correspondents' Dinner, but jokes it is really a celebratory bash for her.
She said: "I'm going to be in [Washington] D.C on my birthday. I'm going to go for the White House Correspondents dinner. They don't know that they're throwing me a big dinner birthday party but they are, secretly."
The Hollywood actress was recently snapped sporting a large fake wrap-around tattoo on her upper arm for her role in forthcoming comedy A.C.O.D, but insists that despite her few small pieces of body art, she would not want something so big.
She told E! News: "My godmother saw it and she was like, 'Is that a new tattoo?' And I was like, 'No, it's just for this movie'. And she was like, 'Oh, okay'.
"Right now, it's not for me, to get a sleeve or get a big tattoo on my arm. But if someone is into it, fine. I have zero judgments on it."
-BANG! Showbiz