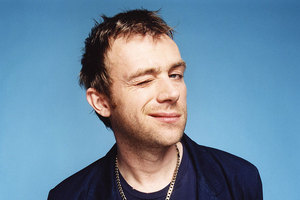 Damon Albarn says both Blur and Gorillaz will wind up in 2012.
In a new interview Albarn - the front man for the four-piece Britpop heroes who reunited last year - shocked fans by admitting both of his biggest bands would end this year.
Talking to The Guardian, he said Blur's show at Hyde Park on August 12 would be one of Blur's final acts.
Despite releasing a new single recently, Albarn said he found it hard to record with certain members of the band.
"I find it very easy to record with Graham (Coxon). He's a daily musician," Albarn said.
"With the other two (Alex James and Dave Rowntree), it's harder for them to reconnect. You know what I mean? It's fine when we play live - it's really magical still - but actually recording new stuff, and swapping musical influences...
it's quite difficult."
And he admitted a "juvenile" falling out with Gorillaz co-founder Jamie Hewlett meant that new Gorillaz mustic was "unlikely".
Albarn said: "I think we were at cross purposes somewhat on that last record, which is a shame. So until a time comes when that knot has been untied..."
Gorillaz released their last song, DoYaThing, earlier this year. They have released four albums of cartoon hip-pop.
Albarn's new project, Dr Dee, will release its debut album in May.
- Herald online